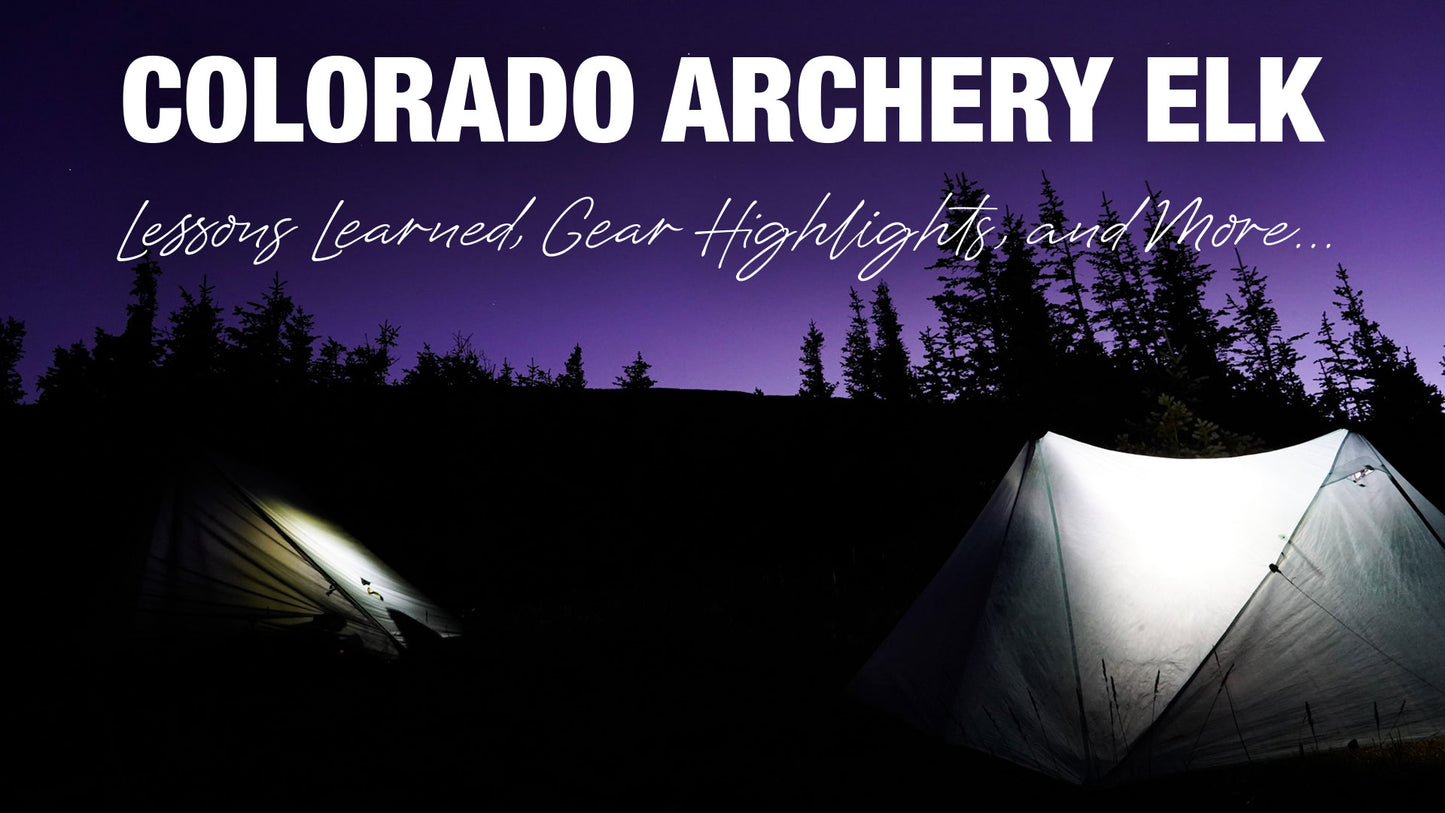 I try to jot down notes during each hunt I go on. These small notes are simple ways to remember the events experienced, lessons learned, and thoughts encountered throughout a multiday adventure in the wild. At some point shortly after a hunting trip, I add a recap of the adventure to my notes.
Having just completed an early-season archery elk hunt in Colorado, I thought it could be valuable to expand upon my notes and share them publicly. Below, you will find a summary of notable points and personal takeaways from this hunt. And at the end, you will find some practical notes that I had about the gear that stood out to me from this trip, and also a link to my full gear list for this hunt.
For context, this is a hunt that I was tagging along on, to help a good friend with locating, calling, and hopefully, packing-out an elk. It was the first time that either of us had hunted this unit in Colorado. This leads me to one of my first big takeaways from this hunt…
EMBRACE THE UNKNOWN.
Going into a completely new area that you've never hunted or stepped foot in is always exciting. While prior experience in an area is valuable from a hunting success standpoint, when you have the opportunity to explore new country, cherish it.
A huge part of the appeal to hunting, in general, is the "unknown". Even when hunting familiar places, species, or seasons, no two hunts are the same. But when hunting new places, species, or seasons, the unknown is greater. This means there is more to learn, more to explore, and more first-time discoveries to be made.
What's over the next ridge? What's at the bottom of that draw? What will I find through my optics? What animal patterns will I learn in this area?
Embrace the process of discovering the unknown.
Mark glasses for elk through the spotting scope. [Photo by @dereklobato.photog]
DON'T OVER-COMMIT. BE READY TO BE WRONG.
As great as the unknown is, you should always start every hunt with a well-researched plan. This includes research on the best ways to access and travel through the area, the anticipated location and behavior of animals, and backcountry logistics, such as water sources and camp locations.
But when the reality on the ground doesn't match the plan you prepared before the hunt, don't be stubborn. Don't over-commit to your preconceived assumptions. No matter how well-researched your plan was, you will be wrong.
Be willing to change areas, tactics, and strategies. Quickly realize where your plan was wrong and adapt. "Embrace reality and deal with it."
Our "Plan A" on this hunt was to glass from a specific glassing point and locate elk with our optics in a few pockets of habitat that we were "sure" would hold elk. We found plenty of elk from that glassing point, but not where we expected. And not where we could hunt. We anticipated that elk would be in isolated pockets near the timberline, where they would find water, food, and safety in the early, pre-rut portion of September. However, we found that hundreds of elk were thousands of feet below us and miles away on public land.
When we did find huntable elk on public land a couple of days later, it required that we changed both our hunting area and our hunting tactics.
ALWAYS BE HUNTING.
After our Plan A turned out to be a bust, we packed out from our glassing point at 12,000' to regroup and strategize our next move. This included a drive down the mountain, towards the lower elevations where we saw the elk on private land. To be honest, I didn't want any part of this. I didn't want to get in the truck. I didn't want to leave the high country. (I was over-committed to that plan.) But my friend, and the tag-holder for this hunt, made the right call to drive down and explore.
I wasn't sure what we were doing at that point, but as it turns out, a drive in the truck wasn't a break from hunting, it was a different way to hunt. It was during that drive that we got a different perspective on the mountains. It was on the drive that we ran into some locals that mentioned where they had seen some bulls (on public land) days prior. It was on that drive that a new plan came together.
The new plan involved us backpacking at timberline again. That's what I wanted to be doing, but we wouldn't have done it as effectively if we hadn't taken that time to regroup. Taking that drive initially felt like a break from the hunt, but it turned out to be a smart way to keep hunting. Always be hunting.
HUNTING WITHOUT A TAG IS A BLAST!
Our new plan for the hunt solidified after we located a new group of elk on a new side of the mountain. We loaded up our packs to stay out for a couple of days and with a purposeful pursuit of known elk, it finally felt like the actual hunt was on. The anticipation of the encounter was high. The strategizing for how to get in bow range was in full swing. I was consumed with the familiar mix of excitement, expectation, and energy that hunting encounters bring. However, I wasn't actually hunting. That is, I wasn't the one holding a tag, or that would releasing an arrow.
The hunter and the helper; both are part of the experience. [Photo by @dereklobato.photog]
But it didn't matter. I was hunting. We were hunting. And I was reminded that, in a way, it can be more fun to be along for a hunt that isn't yours. The times that I have hunted, but not been the hunter, have proven to be moments that provide a high level of hunting excitement, but without as much stress or pressure as I put on myself when I am the one who's attempting to notch a tag.
If you have yet to invest some time and energy in helping others on their hunts, you're missing out on a joyful and rewarding experience.
DON'T TRY
ANYTHING
THAT ISN'T TESTED.
After packing-in to the new area, we stalked to the edge of bow range on a small herd that evening. A less-than-ideal shot opportunity was available, but wisely passed.
That night, we did our best to kick out spots for a couple of 1-man tents, though flat ground was never truly found. In the morning, we continued the pursuit and were once again on very fresh elk sign and a bugling bull.
However, this was the second day that my buddy struggled to eat and keep any food in his system. His body was forcibly rejecting all of the calories he consumed, and along with that was a mixture of nausea and cramping. Even water struggled to stay in his system.
Struggling with sickness. [Photo by @dereklobato.photog]
Was it something he ate? Was it bad water? Could it somehow be the elevation?
Long story short, our hunt was cut short when my friend was unable to keep any food, and hardly any water, in his system over two full days. He didn't have the capability to keep hiking and hunting. It was his hunt and I knew he wanted to press on, but it just wasn't physically possible.
The day after we returned home it came to light that the reason for his sickness was actually a medication he took to help prevent altitude sickness. What was meant to help him, actually hurt him.
We often speak on the Hunt Backcountry Podcast about how important it is to test and try things before your hunt. Usually, we're talking about testing your gear, food, or capabilities before the hunt. I had honestly never thought of testing something like a new medication. Now, in hindsight, that seems so obvious. When you have a hunt that has required hours, months, or even years of effort, energy, and resources to attain, don't risk it by trying anything that isn't tested and proven beforehand.
GEAR DEBRIEF
The purpose of this gear debrief is to highlight a few of the things that stood out to me on this hunt, or were newer items that I had some previous (but not in-depth) experience with. A link to my complete gear list for this hunt is below…
Mark's camp, pitched on a game trail at timberline.
KUHL Renegade Pants
A lot to like here. The biggest thing that I had issues with was the button closure at the waist, which easily popped open as I bent over or made dynamic movements. They are a bit noisier than I'd prefer for archery hunting, and the ankles are a bit too snug. Otherwise, I love the fit, fabric, performance, durability, and pocket configuration. The zip-open vents are on the small side, but are still helpful. They aren't a perfect replacement for the Prana Zions, which unfortunately have changed for the worse in their new II (2.0) version. I would have been happier and more comfortable running the Sitka Ascent pants, though they are a much pricier option. View at KUHL.com
Sitka Ambient Hoody
This is a newer piece, having just been released earlier this year. It is lighter and more breathable than the grid fleece mid-layers I have been using for the past handful of years. This was a mild hunt, so I didn't move in this piece much, but the breathability was noticeable and it for sure kept me from overheating as quickly as I would in previous mid-layers that I have experience with. I used it as a static insulation piece when it was cool, not cold. That isn't the purpose of this piece, but it worked relatively well in that scenario. I am looking forward to more testing with this piece throughout the year. View at SitkaGear.com
Hydroflask Trail Series Bottle (21oz)
Historically, I haven't packed any sort of insulated drinking vessel on backpack hunts. However, I think this lightweight insulated bottle has earned its place in my pack as a "luxury item". Whether it is keeping coffee warm for hours in colder temps, or keeping cold fresh-filtered stream water colder and more enjoyable in warm temps, this bottle provided unnecessary but enjoyable benefits. It would be an item I leave at home when truly counting every ounce, but I have a feeling that I am going to justify the 9oz of pleasure quite a bit in the future. View at Amazon.com
More Comfort…Especially for Side-Sleepers
This isn't a gear item, but more of a gear strategy that came up in conversation on this hunt. I am an active sleeper and frequently move from sleeping on one side, to sleeping on my back, and then sleeping on the other side. I do this at home, and especially in the backcountry. One of the things that has brought me more comfort, and better sleep, is running less pressure in my air mattress. Additionally, when sleeping on my side, I will often put my puffy jacket between my knees. If you haven't tried either, or both, of these strategies, give them a shot.
DIY Dehydrated Meals
I had three primary dinner entrees with me on this trip:
Spaghetti with Ground Elk and Sauteed Vegetables

Elk Chili Mac

Elk, Black Beans, and Cajun Rice
Each of these meals were something I made at home and then dehydrated with very little time and effort. These meals allow me to customize my ingredients and portion size, and also save me money. And when cooked and dehydrated in batches, they don't take much time to create.
We have talked recently about the importance of wanting to eat what you've packed for backcountry hunts. And with these meals, I get excited for dinner every night.
If you want to learn more about dehydrating your meals, check out Episode 126 of the Hunt Backcountry Podcast, or this Complete Guide to Dehydrating Your Own Meals from Valley to Peak Nutrition.
Final quick tip: I packed crushed red pepper and parmesan packets from Domino's to add to my Spaghetti and Chili Mac entrees, and also a single-serving packet of Cholula sauce for my Elk, Beans, and Rice meal.
---
---
Mark Huelsing is the host of the Hunt Backcountry Podcast and works at Exo Mtn Gear — though he's never been able to figure out his job title. Connect with Mark by sending him an email (mark at exomtngear.com) or DM @MarkTheFark on Instagram.