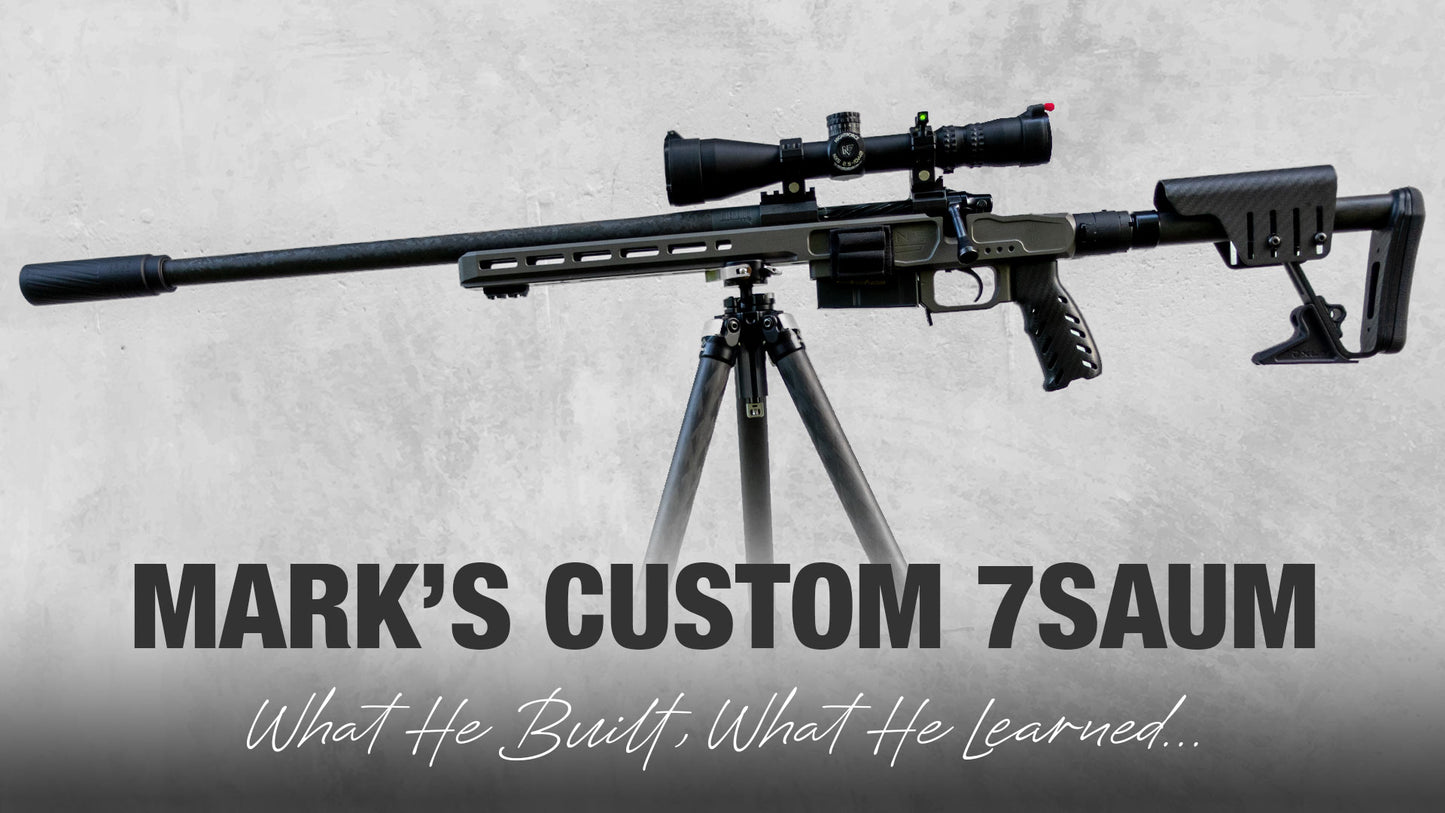 When it comes to custom hunting rifles, there are seemingly endless options. Although there is an overwhelming number of rifle builders, rifle components, and rifle cartridges, I have noticed that there seems to be a lack of depth and transparency about custom rifles AFTER they have been built, delivered, tested thoroughly, and proven in real-world conditions.
I think there are many reasons for that lack of long-term objectivity. Perhaps one of the primary reasons is that very few people would be willing to admit that they spent thousands of dollars on a rifle and then are anything other than thrilled with the outcome. After all, a custom rifle is more of a luxury than a necessity for hunting.
In this article, I want to talk about a custom rifle that I built and have now tested for a couple of years. I built this rifle specifically for big game hunting in the mountains of Western US and Alaska. I have fired hundreds and hundreds of rounds through the rifle, successfully hunted elk, bear, and deer with it, and taken it to several states for those hunting adventures. In a couple of weeks I will be using it for mountain goats in Alaska, then elk in Idaho later this fall.
I have harvested animals with this rifle as close as 30 yards, and to beyond 500 yards. I have numerous handloads with this rifle that shoot under half-MOA, and a couple of loads that have 4- and 5-shot groups in the .2s (from a rear bag and bipod, not a fixed rest). It's a shooter.
Thankfully, having extensive experience with this rifle, I am indeed satisfied with it. That said, there are a few things I have changed since the original build, or that I wish I would have done differently. I won't hide from those negatives in this article. I also discuss more about this rifle in Episode 370 of the Hunt Backcountry Podcast...
Listen / Download — iPhone | Android | Spotify
I can't go in-depth on every aspect of this rifle build in a single article (or the podcast above), but I hope that this content gives you some things to think about if you are considering a custom rifle. Perhaps, you'd be more interested in upgrading your factory rifle into a "semi-custom" rifle; if so, check out these articles about a Tikka that I built previously: Part 1, Part 2.
Shooting tiny groups on paper isn't why Mark built this rifle, but it sure is nice to have these results when you are working on load development. This 4-round group with a 160-grain Nosler Accubond is what Mark will be hunting with this year.
MY CUSTOM RIFLE — COMPONENTS & SPECIFICATIONS
UPDATE! — Since building the rifle detailed in this article, I have since made some changes to make my "perfect" rifle for backpack hunting. You can see my current rifle and components here.
After a successful bear hunt, Mark takes the opportunity to practice a cross-canyon shot at 600+ yards off of a tripod.
SELECTING YOUR GUNSMITH OR RIFLE BUILDER
I have been genuinely impressed by the entire operation of my rifle builder, Sterling Precision.  Before my build, I didn't know them and they didn't know me. But over time, I have visited their shop on multiple occasions, and even did some long-range shooting with the owner, Adam Busse. Each time I interact with Adam or someone on his team, I walk away impressed.
When you are looking for a rifle builder, here are some of the key things I would consider:
Do they have a genuine interest in building the rifle that YOU want, or are they interested in just selling you something without understanding your wants and needs for the rifle?

Do they have personal experience using rifles in the way in which you plan to use your rifle? (Are they a hunter, a competitive shooter, a MIL/LE/Tactical shooter, etc.)

What is their communication like? Are they available, responsive, and helpful when you call or email?

Not just how many rifles have they built (bigger isn't always better), but who have they built rifles for? Who trusts them?

If you get a chance to visit or see their facility, is it clean, organized, and professional? It doesn't have to be perfectly polished, and a lot of great rifles may come from some older equipment in humble facilities, but personally, I want my rifle built in an environment where everything is well taken care of.

What is their lead time? What components do they have readily available, or will your rifle build be at the mercy of the builder's suppliers?
Obviously, before you drop thousands of dollars, you'll want to do some research and referrals. 
To answer some of those questions and relate them to my experience with Sterling Precision (@sterlingprecisionllc), I will say that they were both responsive to my questions and patient with my questioning before and throughout my rifle build. The Sterling Precision facility is clean, organized, and well-stocked with components (actions, barrels, triggers, optics, etc), and it is clear they have invested in state-of-the-art equipment and machinery to build precision rifles.
Adam is a passionate hunter himself. He started Sterling Precision because he wasn't satisfied with his previous experiences having rifles built for his hunting needs and he knew that he could put together a team that could do better. In addition to hunting, Sterling also builds rifles for record-setting ELR (Extreme Long Range) competition shooters and demanding industry professionals, such as Brian Litz and the team at Applied Ballistics. If guys like that trust Sterling Precision, I can too.
Fun, quick story… The first time I visited Sterling Precision they were having an electrician run some power for new machinery. That electrician was working on a scissor lift, securing conduit to the ceiling. After the electrician completed his work and left the area, Adam noticed that the electrician had left an errant zip-tie secure to the ceiling metal truss. After apologizing and excusing himself from our conversation, Adam got the electrician to come back, get back on the scissor lift, and remove the unnecessary zip-tie. Call that detailer-oriented, OCD, or just ridiculous. Whatever that says about Adam and his operation, it tells me that that's the type of guy I want building my rifle and making sure things are right.
I know there are a lot of great gunsmiths and rifle builders across the country; I certainly don't have the budget (or need) to get first-hand experiences with what I am sure are many other great builders that could be spoken of. I will just say that the crew at Sterling Precision has earned my trust for any future rifle building or gunsmithing work that I may need.
RIFLE ACTION & CARTRIDGE FEEDING
The action on this rifle is the anTi-X from Defiance Machine. The anTi-X action is a heavily skeletonized steel action that aims to be extremely light — just a couple of ounces heavier than a titanium action, without the potential drawbacks of using titanium. I own both a titanium action and the anTi-X, and I prefer the anTi without a doubt.
One of the great things about Defiance is that they offer a ton of options to truly customize your action according to your needs. If you want to hear more about everything that goes into Defiance actions, check out Episode 340 of the Hunt Backcountry Podcast with Mike Lee from Defiance Machine.
My action is built in a left-handed configuration and a Nitride finish. I have the integral Picatinny rail (which is what differentiates between the anTi-X and anTi action models). The action has proven to be extremely smooth and reliable in all field conditions.
The Defiance anTi-X action Mark used for this rifle build.
I have their XM (medium) length action, which offers more space to run heavier, modern high-BC bullets for "short action" cartridges, such as the 7 SAUM, 6.5 PRC, and 300 WSM, among others. I originally had Defiance's XM-length BDL kit with this rifle, but that changed when I moved from a stock to a chassis (more on that later). Currently, the action is fed from an MDT magazine that was modified from a 10-round to a 4-round size by Kinport Peak Rifles.
This brings me to a point that highlights something I would do differently if building this rifle again. It is no fault of Defiance or their action, but I wish I would have chosen to use a standard Short Action length, instead of the somewhat unique/proprietary XM-length action. Yes, as mentioned previously, the XM length is better for heavy-for-caliber, modern, high-BC bullets (such as 180+ grain bullets for the 7 SAUM), but those aren't the bullets I have ended up shooting. I could have easily gotten away with a true short action and would have not been "handicapped" by the shorter length for the bullets I have been using, which are: 143/155 Hammer Hunters, 160 Accubond, 160 Partition, 168 Berger VLD, 175 ELD-X, 175 Nosler ABLR.
The downside to the XM length is that it limits the options you have for stocks, chassis, magazines, and bottom metal components. For example, I had to have Kinport Peak Rifles perform a costly magazine conversion because XM-length magazine options for SAUM/PRC/WSM cases are so limited and are not offered in hunting-friendly capacities (3-4 rounds, instead of 10 rounds).
Overall, I am 100% happy with the quality and performance of the anTi-X action itself and would choose it again in a heartbeat for the foundation of a lightweight hunting rifle.
BARREL
This rifle features a Proof Research carbon barrel. Having owned 3 different Proof Carbon barrels in different lengths and calibers, I can say they have all been extremely consistent and accurate. I have never struggled to get groups under ½ MOA with hunting rounds out of any of the barrels. Also important to me, they don't foul quickly and they clean easily.
Since I shoot suppressed, yet also want a lightweight rifle, the rigidity and profile of a carbon barrel are important. An equivalent weight steel barrel would have such a thin contour that it wouldn't be as stiff, would be more affected by the weight of a suppressor, and may not have sufficient thickness to have proper threading for a muzzle device.
I am 3-for-3 with great barrels from Proof. They've earned my trust.
Mark's Rifle in the original AG Composite Stock, after a successful Idaho Elk Hunt
One note of change for this rifle is that I wish I would have gotten a shorter barrel. I was gathering components for this rifle at the peak of early COVID craziness, and like most things, inventory and availability for rifle components were extremely limited. I literally searched across the country for a 20" .284/7mm Proof barrel blank; it didn't exist. I settled on a 22" barrel, which is fine, but I'd prefer shorter. I own a 6.5 Creedmoor with a 20" barrel and would even put an 18" barrel on a 7 SAUM in the future.
SUPPRESSOR
I have owned the Thunderbeast Ultra 7 suppressor for 2+ years now. Recently, I acquired their Ultra 5 (Gen 2) suppressor. I am excited to compare those suppressors more in the future.
In general, the use of suppressors for hunting is a true game-changer. There have been several instances where the outcome of a hunt was directly affected by the fact that I was shooting suppressed. The reaction of animals to suppressed shots is definitely different from their reaction to unsuppressed shots. Not only that, but suppressors are safer for the shooter and also offer recoil reduction.
Steve & Mark from Exo Mtn Gear doubled-up on black bears in the Idaho backcountry. The bears were shot just seconds apart. If they were shooting unsuppressed rifles, it is likely that the second bear would have ran away from the sound of the first gunshot.
I did a LOT of research on suppressors before selecting a Thunderbeast suppressor, and I have not been disappointed by their product at all. The Ultra suppressors are very light, perform well from a sound reduction standpoint, and most importantly to me — they are 100% repeatable. I can take my suppressor on and off the rifle and never have to worry if my point of impact will shift when I reinstall the suppressor.
To learn more about the benefits of suppressors for hunting, check out Episode 203 of the Hunt Backcountry Podcast. To learn more about the process of legally obtaining a suppressor for hunting, listen to Episode 333.
STOCK / CHASSIS
I originally built this rifle with an AG Composites Visigoth stock. It was a very nice, lightweight, comfortable stock. I didn't have any complaints about the stock itself. However, to reduce the overall length of the rifle, I wanted to move to a folding chassis.
Now, the rifle is in an XLR Element 4.0 Magnesium chassis. This folding stock reduces the overall profile of the rifle when it is strapped to your pack. This is not only helpful to reduce the overhead profile of the rifle when hunting in thick country, it has proven to be extremely helpful to keep the bottom of the rifle from extending below the pack when hauling-out heavy after a successful hunt. Previously, setting a heavy pack down with a rifle's buttstock extended was a troublesome task. Now, I can have the bottom of the stock up higher, and the top of the barrel down lower.
In the folded position, the XLR Chassis reduces the overall length of the rifle by 11"
The XLR Element chassis is awesome. In addition to the folding capability, my favorite features are the built-in bubble level and the full-length ARCA rail. That rail features M-LOK compatibility, making it easy to install accessories, such as a Picatinny rail or Spartan adapter for mounting a bipod. I love the adjustable-height riser on the stock to set the position that is most natural and comfortable for you.
The XLR Element can be configured differently, according to your needs and budget. You have the option of a folder or fixed version, different buttstocks, and different grips. If you go with the lightest options to keep the overall weight down, as I did, the cost does increase quickly. It isn't a cheap component of a build, but the quality, precision, and benefits have matched the price tag if your budget can afford it.
Being a metal chassis, it will be cold to touch/hold in cold weather. Thus far, that hasn't been an issue for me, but consider that when determining how much you hunt in the cold and how much you tend to carry the rifle in your hands, vs slung over your shoulder or affixed to your pack.
A similar chassis that is all-carbon is MDT's HNT26. That is the chassis that Exo's Steve Speck uses. I just recently got one to compare to my XLR as well, so look for more comparisons of those two chassis to come.
XLR & MDT — Rifle Chassis Comparison
I am sold on the benefits of a folding chassis for backcountry hunting — especially when shooting suppressed. The XLR and MDT chassis are both spendy, but I would sell a second rifle to fund the purchase of a chassis for my primary rifle if that's what I had to do.
TRIGGER
I chose the Timney Elite Hunter trigger for this rifle. I have also run TriggerTech triggers in the past. Both my Timney and TriggerTech triggers have been easy to adjust, reliable, and offer a very clean break with no pre- or over-travel.
I prefer the Timney, primarily because of the wider trigger shoe. That wider contact surface on my finger gives me more comfort and "feel" on the trigger.
If buying another trigger in the future, Timney would be what I choose.
RIFLE SCOPE
In the period that I built this rifle, and for the first year I owned it, I tested several of the popular hunting scopes that were around the $1,000 price point, and around the 20oz weight range. The top contenders were the Zeiss V4, the Vortex Razor LHT, and the Leupold VX-5HD. They were all fine scopes, each with distinct pros and cons.
However, they each had certain drawbacks and I questioned their long-term reliability for truly rugged and demanding hunts, such as my upcoming mountain goat hunt in Alaska.
The Nightforce NXS Compact scope in a set of Hawkins Precision Ultralight scope rings, mounted to the integral rail of the Defiance anTi-X action.
I ultimately landed on using the Nightforce NXS Compact 2.5-10x42 scope on this rifle. In my experience, Nightforce's quality and reliability have lived up to the high reputation that their products have.
I love the compact size of the NXS 2.5-10. Having come from scopes with a higher max-zoom, I did have some reservations about the 10x magnification, but having now shot the scope beyond 1,000 yards on life-size steel animal targets, I don't see the lower magnification of this scope being an issue for my practical hunting distances. In fact, I had the 16-power Zeiss V4 on this rifle when I shot a bull at 500+ yards last year, but even then, I only had that scope dialed to 8-power. My style of hunting is to get as close as possible and 500+ yard shots will be far from common, so for me, 10x is plenty of power for hunting.
After my time spent testing and hunting with this Nightforce scope, I have sold other scopes and purchased additional products from Nightforce. (As with everything else, I am not sponsored or endorsed when I say that.)
For those curious, or who may not have the budget for a Nightforce and were wondering about the previous 3 scopes I mentioned, I'd rate the V4 as the best overall build quality and reliability, the LHT as the best glass/reticle and turret design, and the VX-5HD as a good overall scope that doesn't have any particular stand-out features compared to the others.
SCOPE RINGS
After a set of Zeiss rings stripped and failed on this rifle, I purchased the Hawkins Precision Ultralight Rings as a replacement (photo above). I had previous experience with Hawkins rings that were 100% positive, and what is now my second set of their rings has been great as well. They are strong, yet light, and I love the built-in level option. Hawkins offers both rail-mounted rings (what I have on this rifle) and direct-mount rings for many rifle actions (what I have on another rifle).
Having experienced Hawkins' quality first-hand, and also knowing that they are hunters and shooters who design products from their personal experience, I'm a fan of what they're doing and plan to buy products from them in the future. Hawkins Precision offers more than rings, so be sure to check them out for bottom metal, magazines, muzzle brakes, and more.
BIPOD
I have used the Spartan Precision bipods for several years and I really like them. Most of my hunting shot opportunities are not from a prone position, so I love the fact that I can leave the Spartan bipod off of the rifle and quickly attach it, if needed. Mostly, though, my shot opportunities have been from a sitting or kneeling position, using this approach with Wiser Precision Quick-StiX:
Recently, I have been testing the MTNGear bipod. This bipod is lighter than the Spartan, yet offers a lot more adjustability. It is truly remarkable how adjustable this bipod is for only 5oz. I will be taking this bipod on my upcoming mountain goat hunt, where a prone shot may be more likely, and where there is a likelihood of being in incredibly steep and awkward terrain. The adjustability of the MTNGear bipod may prove to be a critical benefit in that type of mountain environment.
IS A CUSTOM RIFLE RIGHT FOR YOU?
This is obviously a question that I can't answer for you. As I mentioned in the introduction, a custom rifle is a luxury, not a necessity for hunting. By going with a custom rifle, I have been able to build something that simply isn't available off-the-shelf from a manufacturer.
If you have thousands of dollars to spare without much harm to your budget and you love high-end gear, then maybe the answer is an easy, YES!
If you have a tighter budget, don't hunt or shoot much, or are simply happy with the great factory rifles that are on the shelf these days, then maybe a custom build doesn't make any sense for you.
If you are remotely considering having a custom or semi-custom rifle built in the future, then let me leave you with a few questions to think about…
Do you know what you want and need from a custom rifle? I didn't start with a custom rifle. I gained experience shooting, testing different rifles, learning what I did and didn't like, and what I did and didn't need from a rifle. If you don't yet have the experience to understand what YOU want and need from a rifle, then maybe a custom rifle isn't for you…yet.
Are the components you are choosing going to provide a lifetime of use? And is a lifetime of use something you even need? Aside from my rifle barrel (which can wear out, just like the tires on your truck), the components of my rifle build are a lifetime investment. My Defiance action, Nightforce scope, XLR Chassis, and other key components of the build can all be used for years — or generations! — to come. I plan to be hunting and shooting for decades to come. Maybe in a few years, I'll get near the end of my barrel's life and decide I want to build a 30-caliber hammer. No problem! Almost everything on my current rifle can be repurposed for a completely "new" rifle.
Do you have someone that you trust that is guiding you in your decision-making? Maybe it is your potential rifle-builder, or maybe it is a good buddy that has experience and knowledge in the custom rifle world. You can read a lot about rifles, cartridges, and components on forums and other internet sources, keep in mind that what you read about others' experiences (including what you are reading from me now) may not correlate to what is best for your needs.
I strongly advise that you both do a lot of research and find someone you can trust to help guide you if you are considering investing thousands of dollars in a rifle.
A final tip on this point is to ask component builders/providers about recommendations on what other products they recommend, or even what rifle builders they suggest. For example, the team at Proof Research had great things to say about my builder, Sterling Precision, and also helped offer some feedback on other components I was considering for my rifle build.
7 SAUM
7 SAUM handloads with the 160 Nosler Accubond, the 168 Berger VLD, and the 175 Hornady ELD-X.
We're more than 3,500 words into this article and I didn't even touch on my cartridge choice for this rifle. I will work on a future article to discuss my experience with the 7 SAUM cartridge and why I selected it.
One article clearly can't answer every question about building a custom hunting rifle or the countless options and decisions that go into a build that you may consider. If you have any specific questions about my experience or the items I mentioned in this article, the best way to reach me is by email (below).
Mark's Latest Rifle...
After building the rifle discussed in this article (above), Mark built an updated version to address some of the changes he discussed above. Here is Mark's current rifle setup...
---
Mark Huelsing is the host of the Hunt Backcountry Podcast and works at Exo Mtn Gear — though he's never been able to figure out his job title. Connect with Mark by sending him an email (mark at exomtngear.com) or DM @MarkTheFark on Instagram.