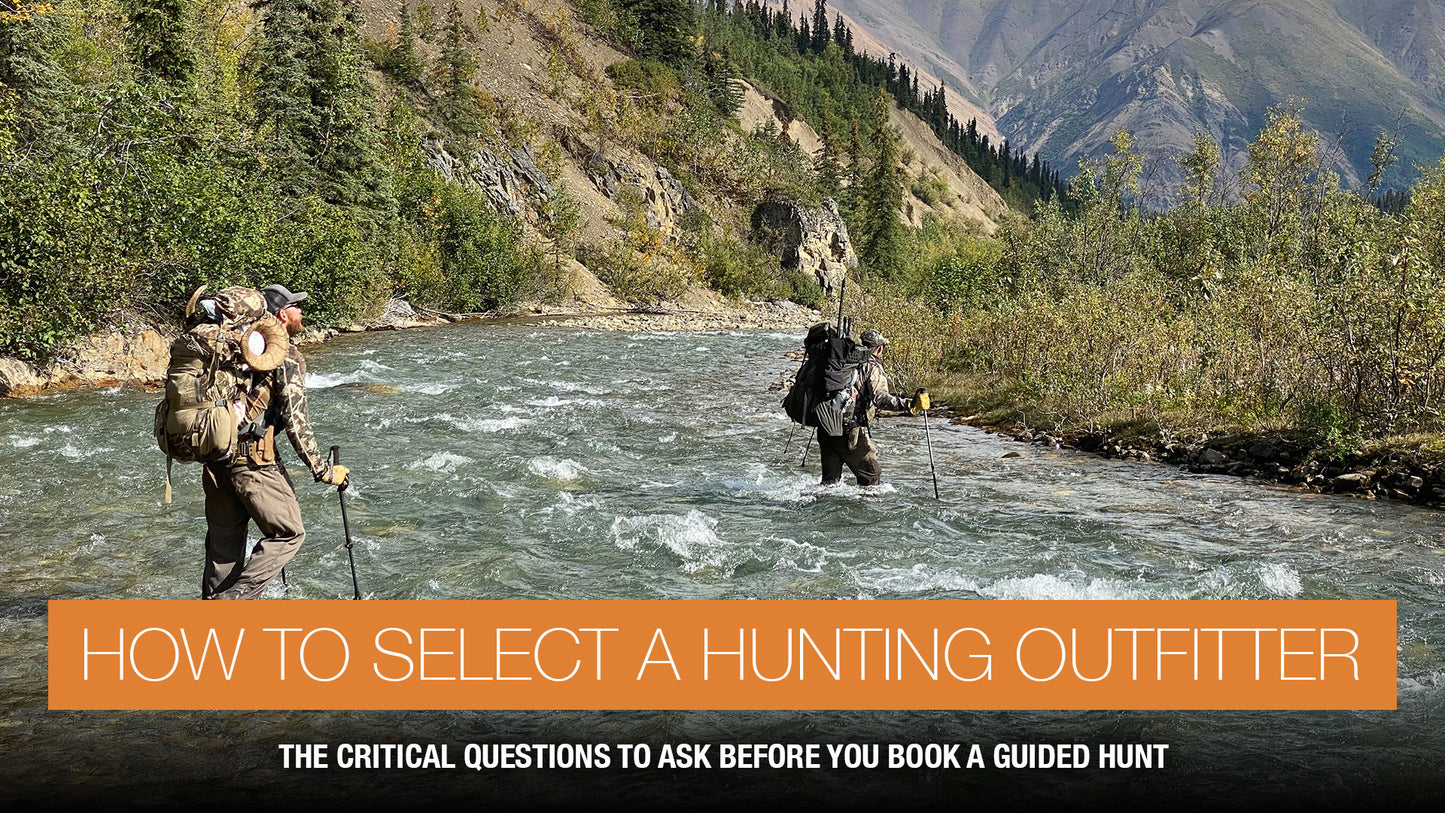 Being a self-proclaimed "do it yourself" (DIY) hunter is a badge of honor for many hunters. But hunt long enough and you may find yourself in a position where you have to hunt with a guide to achieve your goals. That is the case for me this year, as I pursue mountain goats in Alaska for the first time.
Non-resident hunters in Alaska must hunt with a licensed Alaska guide if pursuing mountain goats, brown/grizzly bears, or sheep. The one exception to that rule is non-resident hunters that hunt with an Alaska resident 19 years of age or older who is within the "second degree of kindred" of the hunter. (Guide Requirements for Hunting in Alaska)
Having planned many out-of-state DIY hunts, including a few to Alaska, I am pretty comfortable preparing for such adventures. But when it comes to guided hunts, I have no experience.
Choosing an outfitter or guide isn't easy. Especially since a guided hunt automatically means that you are investing a good chunk of your hard-earned change.
With limited time, limited money, and unlimited hopes for your hunt, what outfitter do you choose to help you make your dream hunt come true?
There is no easy answer to that question. But hopefully this article will help you learn some of what to look for as you research and plan your next guided hunt. Additionally, listen to Episode 332 of the Hunt Backcountry Podcast episode with professional hunting guide, Colton Heward. In this podcast conversation, we speak with Colton about the differences between guides and outfitters, the common misconceptions that hunters have about guided hunts, how hunters should set realistic expectations for guided hunts, and much more…
WHERE TO START
Start with someone who knows something. Sounds obvious, right?
Before you get on Google and just start searching, reach out to your network of hunting buddies and see if they know someone who's hunted the species and/or area that you're considering. Even if you get a connection to a friend-of-a-friend, talking to someone who has hunted the right species or area will be beneficial. Learning from their experience will help inform how you should approach planning your hunt.
Tyler Boschma on a guided Dall Sheep hunt in Alaska
Whether or not you connect with someone in the step above, at some point you'll start doing research online. That could be searching for the Internet and landing on the Outfitter's website. Or maybe it is searching hunting forums or groups for trip reports from other hunters.
At this point you aren't trying to make decisions. Just consider this the "information gathering" stage. Take notes. Make a list. Keep a record of names, numbers, emails, rough pricing, etc.
MAKING THE CALL
Once you have a list of outfitters you're even remotely considering, reach out to try and connect with them directly. You may start with an introductory email, but the real goal is to get on the phone with them.
Speaking on the phone will give you a much better feel for them and will begin to make a more personal connection with the type of communication and experience that you could have with them in the future.
It is worth noting at this point that outfitters are very busy during hunting season and may be difficult to reach for several months of the year. Don't try to contact a sheep outfitter in August and be disappointed if you don't get a callback, or if you have to follow up with them months later.
On the initial phone call, you're trying to get the high-level details of the hunting opportunity. This includes understanding their availability, cost, hunting area, and more. (I will recommend some more detailed and specific questions below.)
As you speak with them, you should be getting answers to your questions and also getting a feel for how they communicate and treat their customers. You're looking for someone who is patient. Someone that is happy to help you. Someone that wants you to be fully informed about the opportunity. And, hopefully, who has a genuine interest in what type of experience you are looking for.
If there are any "red flags" in your mind, don't ignore them. I have spoken with many hunters that had bad experiences and told me after their trip that they "should have known" because there were some early warning signs that they ignored about the outfitter from the very beginning.
Kyle Hanson on Outdoors International on a guided Brown Bear hunt
ALWAYS ASK
In addition to asking the basic questions about hunt costs and availability, here are some of the specific questions and topics that you should consider addressing with any potential outfitter:
How long have they been operating for this species in this area?
What is the hunting season, and what are the differences in the hunting experience by hunting at different times throughout that season?
What are success AND opportunity rates? (Be sure to understand both!)
Can you describe the hunting area and style of the hunt? For example… What is the terrain like? What type of mileage and elevation is typically covered? What level of physical ability is required to be successful?
What are typical shot distances?
What makes a great hunting client? Alternatively, in what ways do clients show up unprepared or with the wrong expectations?
How many hunter/guide groups are hunting through your outfit at a time during season?
Is there anything we didn't discuss that is commonly overlooked by hunters for this hunting opportunity?
Are there any add-on opportunities for other species for this hunt?
Is it possible to add days to the hunt if we lose significant hunting opportunities due to weather?
Can you tell me about caring for the harvested animal and the process for getting the meat, skull, and hide back home? Do you take care of skinning, caping, and meat for clients? Do you have the supplies to package those items for the hunter's return flight home?
Can you clarify any costs associated with this hunt that are not covered in the hunt contract for your services? For example, would I need any extra transportation or lodging once I arrive at the nearest commercial airport?
Can you send me your recommended gear list for this hunt? Are there any unique gear needs for this specific hunt that aren't common gear items for most hunts?
Those are just some of the questions that apply pretty broadly to most guided hunting opportunities you may be considering. There are plenty of other specific questions that you may have, or that should be considered for the certain hunting opportunity you are considering.
While these detailed questions are great for understanding the logistics of the hunt, make sure that you have clearly communicated your high-level goals for the hunt and ask if this outfitter's hunting opportunity matches those goals well. For example, if you're chasing a buck or bull of a certain score, you obviously want to ask specific questions about the age class of the population, genetics, and harvest data. Personally, I am more interested in the experience than the score of the goat on my goat hunt, so I needed to make sure that the style of hunt (backpack vs horseback vs day-hunt from a lodge) matched those goals.
Outfitter & Guide, Mark Rowenhorst, of Limitless Alaska with a hunting client
CONTRACTS & REFERRALS
If you have gotten satisfactory answers to your questions (above), and are getting closer to considering booking a hunt, the next steps are to get an example of the hunt contract, as well as a list of references from previous clients that hunted with the outfitter in question.
When asking for referrals, specifically ask to get information for previous hunters that were and were NOT successful on their hunts. There may be successful hunters that had a bad experience and unsuccessful hunters that had a fantastic experience.
Just like contacting the outfitter earlier on in this process, try to contact hunters on the referral list over the phone. Emails and texts are fine, but I have found that conversations with the hunter to be significantly more beneficial. Again, this is a great time to take notes. What started as a referral may end up being a friendship or a resource that you can reference again in the future.
In terms of the hunt contract, this is something that you should understand clearly and not be in any rush or under any pressure to sign. Review the contract and make specific notes of any areas that you would like clarification on. And although outfitters use standard contract templates for each hunt, don't be afraid to ask for changes or addendums that you feel may be necessary.
GET HELP
Keep in mind that you don't have to do this entire process on your own. There are services out there to help connect hunters and outfitters. For example, the guys over at Outdoors International are a cost-free resource that has a ton of experience to offer. The OI crew will inquire about the type of hunt you are looking for and then recommend specific outfitters that they have personally vetted.
I hope these tips help to set you up for success as you consider planning a guided hunt. I know that by going through this process and asking these questions I have had more assurance in the process of booking my upcoming mountain goat hunt with Mark Rowenhorst of Limitless Alaska.
---
Mark Huelsing is the host of the Hunt Backcountry Podcast and works at Exo Mtn Gear — though he's never been able to figure out his job title. Connect with Mark by sending him an email (mark at exomtngear.com) or DM @MarkTheFark on Instagram.
To follow along and receive future articles in this series, sign-up to receive email notifications from Exo Mtn Gear. You can also view all articles in this series at the SEAK Adventure series archive.