The ultimate load-hauling daypack.
A streamlined, lightweight daypack for carrying essential gear and for comfortably hauling the heaviest of loads.
Total Internal Capacity
2,192ci
Expanded Dimensions
7" x 25" x 10.5"
PACK FEATURES
Designed for simplicity, versatility, and efficiency.
Any Load. Any Time.
Any Load. Any Time.
Quickly separate the bag from the frame and carry any load between the bag and frame. Compression straps built into the frame offer secure compression for quarters, boned-out meat, load cells, or similar items.
Efficient Zip Access
The main storage area of the K4 2200 features a horseshoe-shaped zipper that allows you to open up the bag completely, offering great access, visibility, and organization for the contents.
Integrated "Lid" Compartment
Integrated "Lid" Compartment
To keep a lower height profile, we designed an integrated "lid" compartment that works great for small accessories — gloves, headlamp, food, etc. It is also the perfect spot for optics, including larger 15x and 18x binos.
Compatible with the K4 Lid
Compatible with the K4 Lid
Add a K4 Lid to the 2200 for 648ci of additional storage and dual-compartment organization. The K4 Lid isn't included with the 2200, but can be easily added-on at any time with the K4 Lid Strap Set.
Full-Length Side Pockets
The K4 2200 features full-length, zippered side pockets on both sides of the bag. The pocket is internally pleated, offering spacious storage for full-size spotting scopes, while keeping the external profile of the pack streamlined.
Top-Entry Side Pockets
Top-Entry Side Pockets
Built with stretch material, both sides of the K4 2200 bag feature top-entry side pockets that work great for tripods, trekking poles, water bottles, and the like. The pack's upper side compression strap keeps tall items secure.
Water Bladder & Wet Storage
Water Bladder & Wet Storage
The K4 2200 features a dedicated water bladder compartment inside the main bag. The waterproof lining helps to keep your gear dry if your bladder leaks. The area also works great to keep wet items (such as rain gear) separate from the dry gear inside the main bag.
Built for Bows. And Rifle Ready.
Built for Bows. And Rifle Ready.
Integrated compression straps on the face of the pack work great to secure your bow to the bag. For rifles, we have a Quick-Release Rifle Carrier accessory, or you can also strap your rifle directly to the face or side of the pack.
Organize The Essentials
Organize The Essentials
The inside of the main compartment features a built-in zippered Stash Pocket to organize and secure small items. There are also attachment points to add additional K4 Stash Pocket accessory pouches.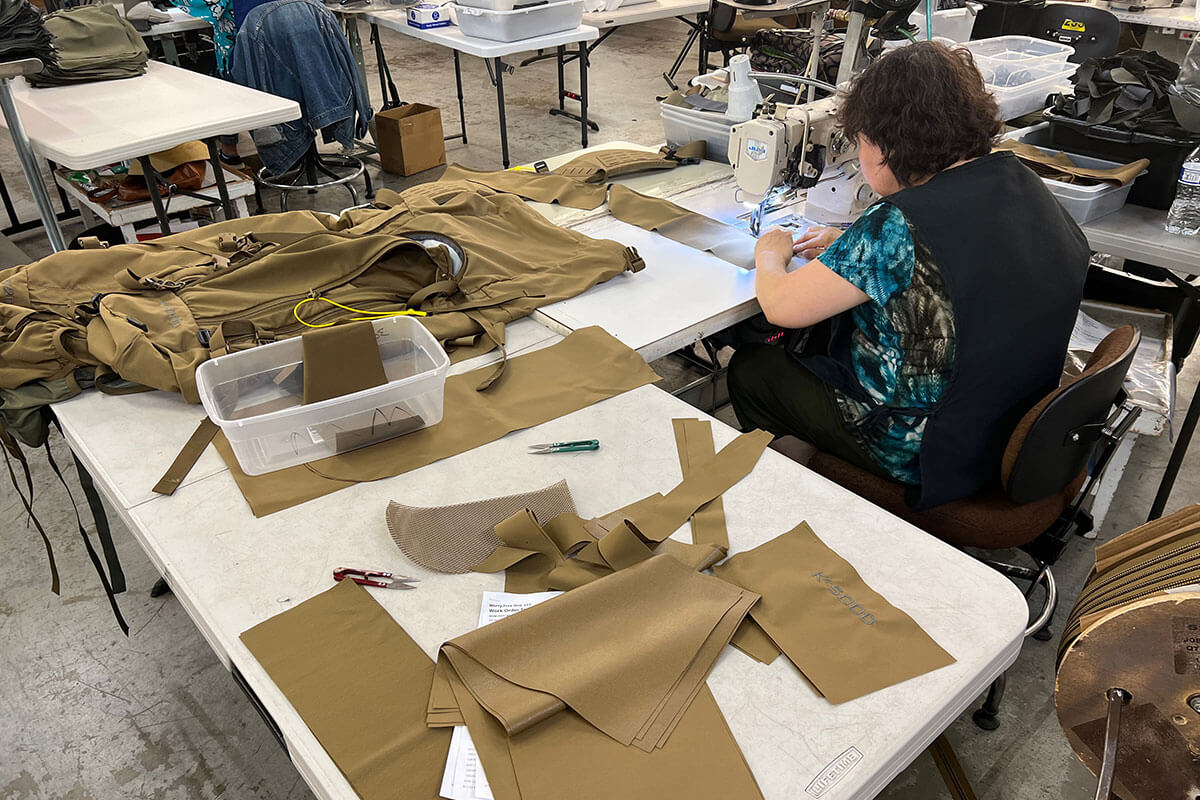 MADE IN THE USA
All of our Packs and Pack Accessories are built in our hometown of Boise, Idaho, USA. We only use the highest quality materials — such as MIL-SPEC 500d Cordura, YKK Zippers, and our custom-engineered carbon fiber frame stays.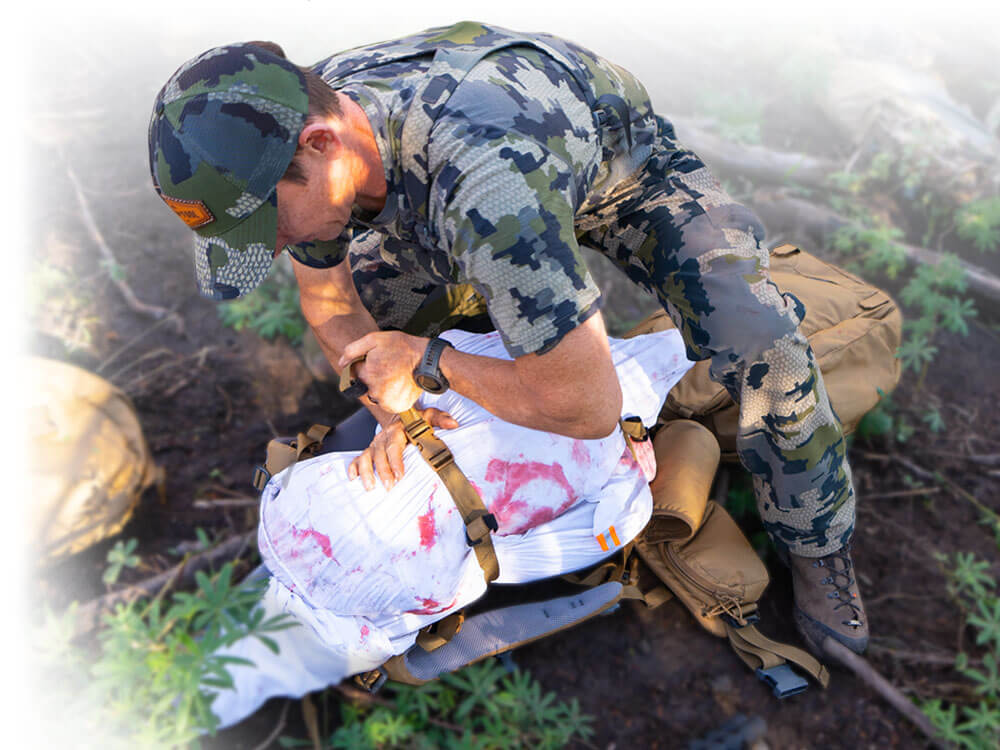 PERFORMANCE IS THE PRIORITY
Learn what sets K4 Pack Systems apart...
|   | K4 2200 | K4 3600 | K4 5000 | K4 7200 |
| --- | --- | --- | --- | --- |
| Weight: Bag Only | 1lb, 10oz | 2lb, 1oz | 2lb, 6oz | 2lb, 8oz |
| Weight: Bag + Frame | 4lb, 9oz | 5lb, 0oz | 5lb, 5oz | 5lb, 7oz |
| Weight: Bag + Frame + Lid | 5lb, 1oz | 5lb, 8oz | 5lb, 13oz | 5lb, 15oz |
| Capacity: Bag Only | 2,192ci | 3,620ci | 5,010ci | 7,180ci |
| Capacity: Bag + Lid | 2,740ci | 4,268ci | 5,658ci | 7,828ci |
| Dimensions: Expanded | 7" x 25" x 10.5" | 8" x 37" x 10.5" | 9.5" x 39" x 10.5" | 13" x 43" x 10.5" |
| Dimensions: Compressed | 2" x 25" x 10.5" | 2.5" x 25" x 10.5" | 3" x 25" x 10.5" | 3.5" x 25" x 10.5" |
Frequently Asked Questions
WHERE CAN I TRY A PACK?

We do not have dealers or retailers and only sell direct-to-consumer online. (If you are in the Boise area, you can "try and buy" at our shop.)

We do have a 30 Day Trial Period, allowing you to receive the pack, test the fit and function, and make sure the pack is exactly what you need. LEARN MORE
WILL YOUR PACKS FIT ME?

Yes! With 4 frame height options and 5 hipbelt sizes, the K4 Frame included with all of our K4 Packs can fit just about anyone. FIND YOUR SIZE
DO YOU HAVE A WARRANTY?

Absolutely. Our lifetime guarantee covers defects in materials and workmanship for the lifetime of the product, for the original owner. OUR GUARANTEE
WHERE ARE YOUR PACKS MADE?

We build all of our K4 Packs & Accessories in Boise, ID, USA. We also source US-Made materials whenever possible. MATERIALS & PRODUCTION
HOW DO I _________ WITH A K4 PACK?
I STILL HAVE QUESTIONS — CAN YOU HELP ME?

As a small company, we pride ourselves on offering personal service, and we would love to help you out.

Everyone on our small team is involved with building, testing, and the use of our products for their personal hunts. WE ARE ALL EXPERTS ON OUR GEAR, AND WE ARE HERE TO HELP.

Give us a call at 208-995-4688 or email support@exomtngear.com and we'd be glad to help with any questions you have.

You can also explore more answers to common questions on our FULL FAQ PAGE.