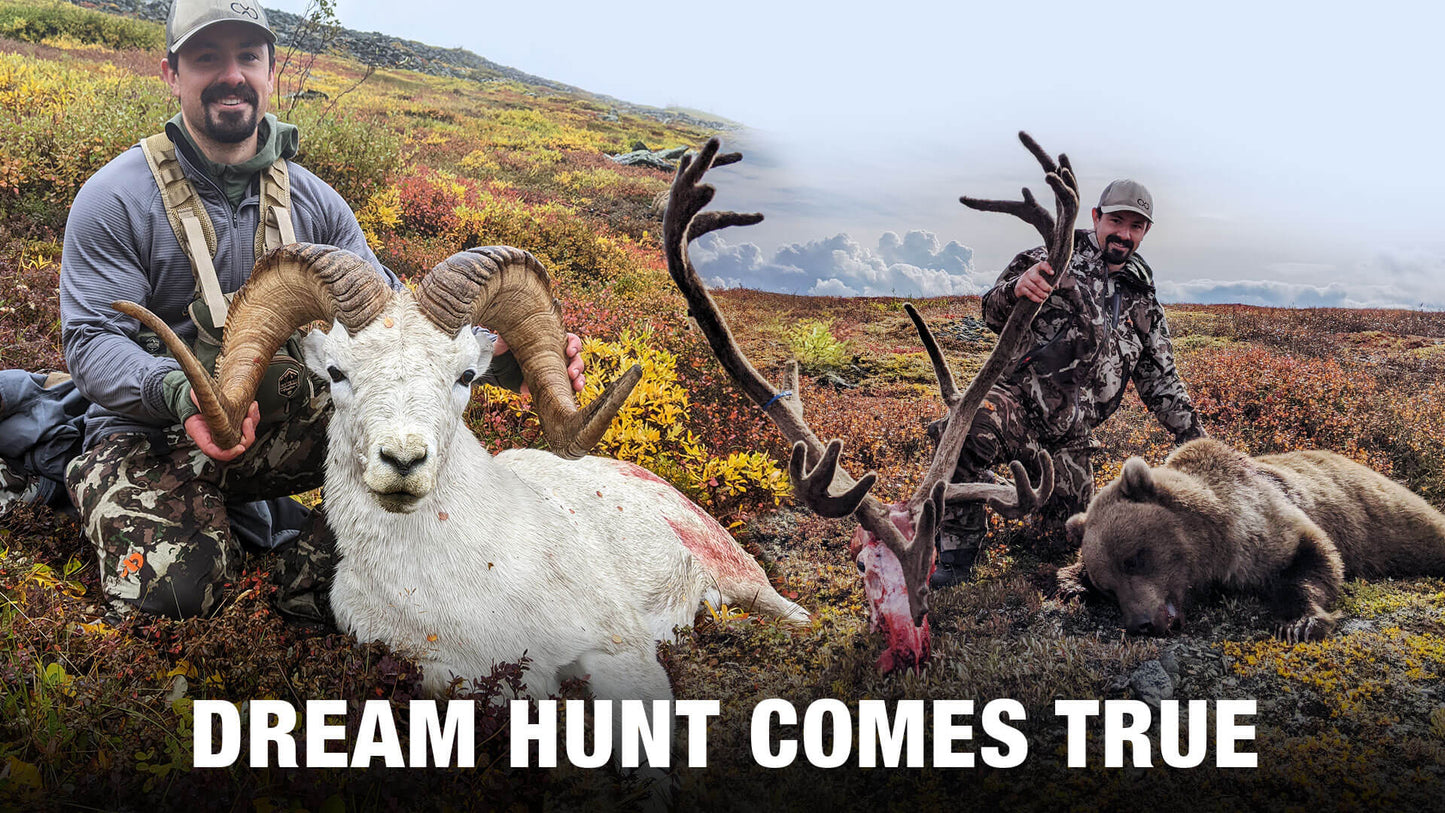 Note from Exo Mtn Gear — The following story is from Exo Mtn Gear customer, Joseph S. After hearing about his plans for an epic adventure in Alaska for the fall of 2022, we offered Joseph (a regular, everyday, non-sponsored hunter) a chance to use, test, and review a prototype of our new K4 Pack Systems. Joseph paid for this pack and has shared his independent thoughts and feedback in the article below. Hear the full story of Joseph's hunt in Alaska on Episode 374 of the Hunt Backcountry Podcast.
---
Whoever said that "failure is the catalyst for change" must have watched my gear buying and rebuying habits over the years.
Several years back I tried to use my old hiking pack to haul an average size Kansas Whitetail one and a half miles out of a swamp, but found myself carrying a rear quarter in one hand, my rifle in the other hand, while the rest of my gear and the deer was awkwardly strapped to my Kelty 65 Trekker. This Boy Scout style pack is fine for short camping trips, but it was not up to the task of packing out a deer — let alone an animal and camp gear.
Joseph's old backpacking pack loaded with a Whitetail Deer
My failure on this pack-out experience was the catalyst for me to realize that I needed a "real pack" for next fall's Wyoming General Elk season and the hunts I had planned in the years to come.
After a lot of research, I landed on Exo Mtn Gear. I ordered a K3 4800 and my brother picked-up a used K2 5500 for our Wyoming elk hunt. Our hunt began with 5 days of unsuccessful hunting, but the packs felt great as we put on the miles in search of elk. Then, everything came together and our tags were notched. Now the real work and the real test of the packs began. Despite us being "heavy pack out" noobs and not loading them optimally, the packs performed great.
Joseph packing out an elk with his K3 4800
In the two years since that hunt, I used my K3 4800 to pack out many whitetails with ease. As 2022 began I had my sights set on a big adventure in Alaska, with the hopes of packing out a legal ram. Wanting more space for this extended hunt in Alaska, I reached out to Mark at Exo Mtn Gear about getting the larger 6400 Bag for my K3. I was surprised when he offered me the option of purchasing and testing a prototype of the new K4 7200 Pack System that they had been working on. I am hard on gear and knew this upcoming trip to Alaska would be a tough test of the pack, so I was excited to purchase the K4 prototype and see how it would perform.
I received the K4 7200 prototype a couple of weeks before flying out to Alaska for my hunt with Tyrell's Trails. I watched the video on fitting the K4 Frame to my body, which was even easier than fitting the K3 Frame. I then took it for two separate workouts and was surprised at how much better it fit me. The weight I had been training with for the previous 4 months felt lighter, shifted less, and overall, I just didn't notice the pack as much.
I loaded what felt to be all of my earthly possessions in the K4, and also a gun case, then left for Alaska. Other hunters I ran into had 3 or 4 bags per person, so I felt like an oddball with just my K4 and a gun case. And my pack wasn't even completely full…the K4 7200 is BIG!
I put all my non aqua agreeable items in the dry bag I had from my K3 4800, then stuffed my rain gear and food bags around the dry bag inside the K4 7200. The new zippered full-length side pockets took some getting used to, coming from the top entry side pockets that I was so familiar with from my K3, but I found that I quickly preferred them once I started using them in the field. The new lower side pocket configuration on the K4 bag was incredibly handy — offering a smaller pocket that was accessible while wearing the pack, and a larger portion which worked great for the buttstock of my rifle. And I absolutely loved the new Nalgene holder on the K4 Hipbelt.
Joseph packs out his beautiful Dall Sheep with a K4 7200 prototype pack
We only made it to the second day of the hunt and were overly successful — killing a beautiful ram that far exceeded my expectations. I used the K4 7200 to carry all of my gear, half the boned-out sheep meat, the cape, and the skull. The pack included an incredibly long day in the rain, going over slick boulder fields; the pack hugged my back tight, allowing me to keep sure footing in the treacherous terrain. There were a few times when I leaped too far from rock to rock, and had the weight shifted, I would have had some bruised appendages. But the pack remained stable and secure, allowing me to retain my balance
We got a rest day, and then as my guide suggested, got flown into a swamp where we were able to pack two miles up onto a bench to hunt for caribou, and possibly a wolf or Grizzly bear. (Site note: when your guide tells you to buy extra tags, don't be a cheapskate!)
We shot a caribou around ten that morning. While field-dressing the bull, a Grizzly came into 40 yards and didn't show any signs of retreat, so we decided to take her with us also. I loaded my K4 7200 with my full camp, multiple days of food, half a bone-in caribou, the full cape, and the velvet-covered antlers. (My guide had the other half of the Caribou meat, as well as the bear's hide and skull.)
Joseph's prototype K4 Pack, now loaded with camp and a Caribou, got plenty of work in a short time
We hiked our way down to the pickup spot at the lake edge. Splitting all of this into multiple trips would have been nice, but another large Grizzly a few hundred yards away dictated we best not tarry. So one trip with extra-heavy packs it was. This load was the most weight I have ever had in a pack. Honestly, the pack didn't hurt like I thought it would. The only problem I had was that my legs and hips would not support the load and move the weight in a natural manner. In my pre-season training, I focused more on endurance than strength — thinking I would be putting on lots of miles and many days in search of sheep.
The extra-heavy load showed me that the K4 Frame is able to carry more than the muscular skeleton allows, and reminded me that my training will only increase the pack's capability.
I never dreamt that by the 5th day of a 10 day hunt, I would have tagged-out on sheep, caribou, and Grizzly bear. Over those few, but extremely rigorous days in Alaska, the pack had proved itself.
My biggest takeaway from testing this pack is that despite the K4 Frame looking quite similar to the K3 Frame (at least at first glance), the performance of the K4 Frame is next-level. With this pack on my back, I have no worries about what is behind me and am able to put all of my focus on the goals in front of me. On to the next hunt!