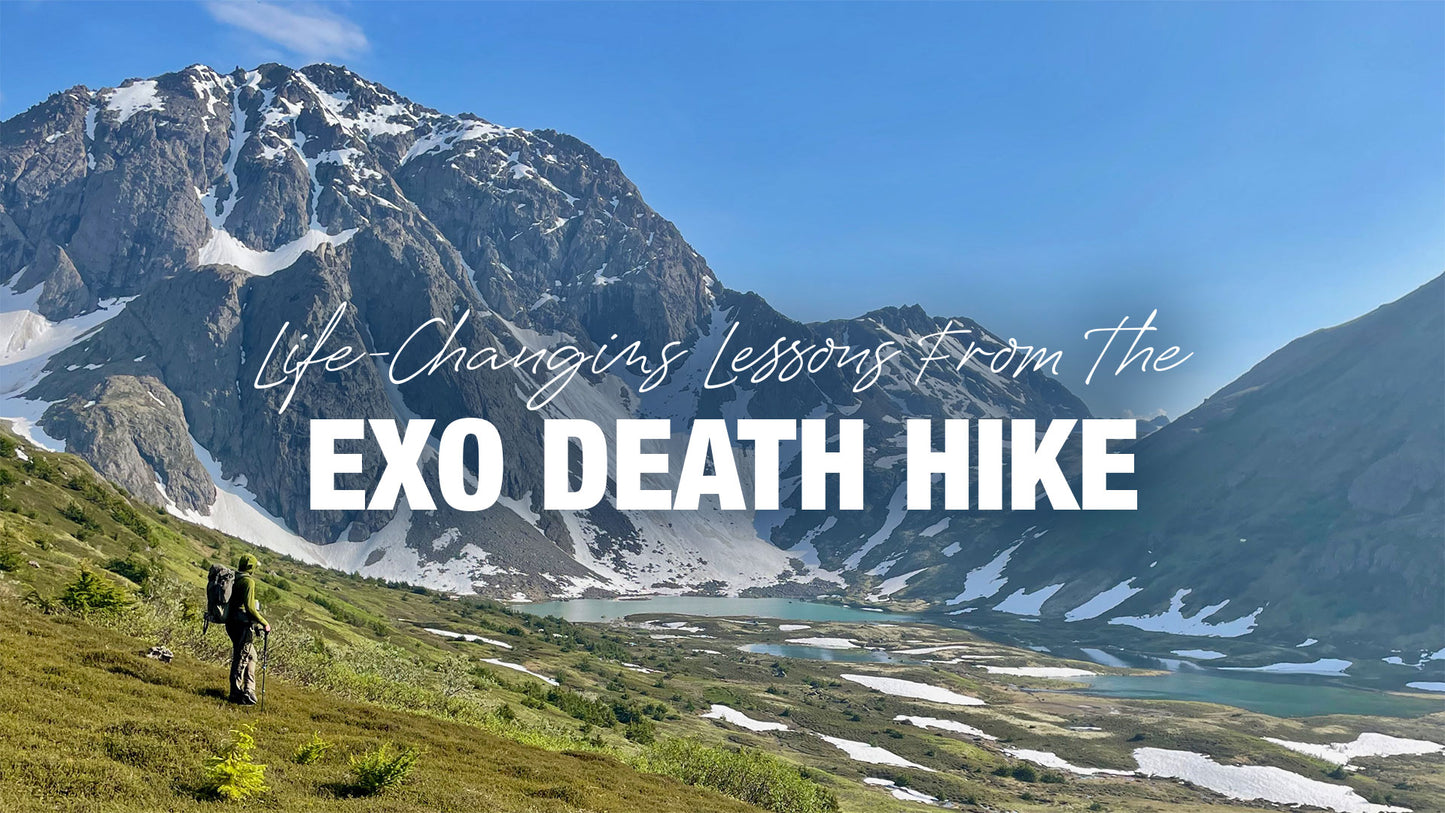 The phrase "life changing" is cliché, but that is the only way I know how to describe what it has been like to participate in the Exo Death Hike over the years. If I had not participated in these events, I would not be the man that I am today. So, yes, these events have been life-changing.
Each year, the Death Hike has a different format and presents a new challenge. The only thing that is consistent from year-to-year is that I know I will be tested in mind, body, and spirit. Although every participant in each event may share the same miles through the same mountains, the experience is truly unique for each person. Each individual will endure different highs and lows, learn new things about themselves, and come away with a unique experience.
Download Mark's 2022 Death Hike Gear List
The lessons learned each year are nearly as many as the miles hiked. I have learned countless things about gear, mindset, training, nutrition, the mountains, brotherhood, and more. But when it comes to the life-changing lessons, here are the six things that have forever changed me in the six Death Hikes that I have completed…
GROWTH REQUIRES RISK, AND THE PURSUIT OF UNCERTAINTY
2017 Death Hike, The Seven Devils Wilderness, Idaho
This was my first Death Hike. Being a regular guy from the Midwest, the idea of flying out to Idaho for a little-known and somewhat-feared event called the Death Hike certainly had me excited and a bit nervous. I was headed into a new place, with new people, for an experience that would be unlike anything I had done before.
We completed the first portion of the hike with daylight to spare on day one. Arriving at one of the pre-selected campsite options with several hours of light remaining, the majority of the group decided to cover more miles before dark. Hours later, with light fading quickly, we encountered a good water source and a decent camp spot for the night.
A couple of the guys were feeling strong and considered pressing further into the night, potentially completing the 2-day hike straight through. I counted myself among them and wanted to continue. The majority of the group decided to set up camp and complete the hike the next day.
I suddenly found myself with three men I had never met, in a wilderness that I had never seen, hiking through the night to complete more miles than I had ever done. My boldness quickly became questioned as we struggled to find our bearing shortly after leaving the rest of the group.
Had I made a terrible mistake? Can I trust these guys I'm with when I don't know them? Do I have what it takes to hike these mountain miles through the night?
After completing those miles by headlamp and moonlight, we arrived back at camp in the early morning hours. I had never done anything like that. I had never shared an adventure with other men like that.
The growth that I experienced from that first Death Hike would never have happened if I wouldn't have pursued the uncertainty of saying yes to the hike itself and saying yes to the uncertainty of hiking through the night with those guys. It was a risk, but the reward remains with me to this day.
TRUE FRIENDS WILLINGLY SHARE IN YOUR SUFFERING
2018 Death Hike, White Cloud Mountains, Idaho.
After a few of us completed the 2017 Death Hike straight-through, Exo's owner and Death Hike master-mind, Steve Speck, sought to make the 2018 event something that would challenge all participants like never before. The goal was 100 miles through the White Cloud Mountains of Idaho.
Knowing that this event would take a minimum of three days and understanding that not everyone who started would physically be able to finish, even if they wanted to, the route was set up so that each night there was road access to help anyone that needed medical attention or needed to drop-out from completing the event.
The miles and mountains seemed endless. The first day alone was tough and it certainly took fortitude to wake up on day two and hit the trail instead of taking a truck ride back to town. There were many challenging moments along the hike, including a steep 3,000' descent at the end of Day 2.
I didn't hit rock-bottom until the final miles of the hike, as we made another long descent that had my knee throbbing in pain. I had come all of this way, yet near the very end and the approach to the finish line, I was struggling. Although he felt much better and could have easily finished well before me, Steve stayed with me in those final miles and walked me to the end.
I can't remember a single word that Steve said to me as we hiked in those final miles, but now, years later, I remember his presence and the choice that he made to share in my suffering. True friends don't have to have the right words at all times; they just choose to be there alongside you when you need them.
THE EASY PATH LEADS TO REGRET
2019 Death Hike, Frank Church Wilderness, Idaho
Having completed a lot of miles in 2018, Steve came up with a new way to challenge everyone in 2019. The plan was to have groups hike 20+ miles as a minimum start, then begin to hunt bears in the Frank Church Wilderness. What the groups didn't know is that Steve had some surprise challenges along the way.
As the hike started, each group was instructed to set alarms for specific times over the next 24+ hours. They were then given sealed envelopes that were labeled with the times that corresponded to the alarms. When the alarm went off, the group had to open the corresponding envelope and immediately follow the enclosed instructions. Each set of instructions was a challenge for the group.
The hike started at midnight and the first challenge was to hike the first hour of the hike without a headlamp or any artificial light source. Several challenges later, and in the cold predawn darkness, an alarm went off. The instructions in the corresponding envelope told each member of the group to find the nearest water source and completely submerge themselves, head-to-toe, in the water. The nearest water source that our group of 3 encountered was an inches-deep swampy area that didn't provide the opportunity for full submersion. Our next alarm rang and a new challenge was issued before we found a suitable water source.
Our group never did complete that water submersion challenge. We got wrapped up in the following challenges and wild weather conditions (an unexpected "winter" storm that brought snow and low visibility to this special summer day). But those are just excuses.
The reality is, we had opportunities where we could have completed the challenge later. Instead, we took the easy way out and skipped an opportunity to get uncomfortable.
I still regret taking the easy way out. I didn't gain anything by skipping the challenge. The comfort I retained by avoiding the cold water didn't lead to any lasting value. By seeking ease and comfort, I was only rewarded with regret.
YOUR TRUE SELF IS EXPOSED WHEN NO ONE IS WATCHING
2020 Unofficial Death Hike, Ozark Trail, Missouri
The Death Hike plan for 2020 was to snowshoe through the Frank Church Wilderness in Idaho during March. Looking back, you'll remember that March of 2020 was a truly world-changing time as COVID-19 spread across the globe and brought lockdowns throughout the US. The 2020 Death Hike was postponed, but I had been training for the event in the months that preceded the COVID lockdowns.
Not wanting all of those hard hours of training to go to waste, I decided to put together a solo hike that I knew would challenge me. I chose one of the most scenic and rough sections of the Ozark Trail in my home state of Missouri and set out to complete an out-and-back hike that would exceed 35 miles, and had the goal of maintaining a 3mph moving average.
The day started with a 2:00 am wake-up, a drive to the trailhead, and a 3:45 am start time by headlamp. I cruised through the first half of the hike and reached the turnaround point feeling pretty good.
However, when I hit about mile 30 of what would become a 38.6-mile hike, I began to struggle. My feet hurt and my joints ached. I wanted to stop. Or at least slowdown. But to maintain my self-assigned mileage and pace goals, I had to keep moving.
But those goals were artificial, right? I made them up, and no one knows. I could break my own rules and no one would care. I could give up on myself, by myself, and no one would know the difference. I had nothing to prove to anyone…except to myself.
In those final miles, I pushed through the pain and completed the hike with a 3.4mph average. I accomplished my mission. For myself. By myself. I learned that it is easy to quit when no one is holding you accountable, but that your true self is revealed when no one is watching.
FEARS AND ANXIETY ARE MADE UP IN YOUR MIND
2021 Death Hike, Frank Church Wilderness, Idaho
After COVID-19 changed our 2020 Death Hike plans, the goal for 2021 was to complete the snowshoe hike in the Frank Church Wilderness in winter conditions. The schedules aligned to complete this hike in early April. With the dates set, Steve upped the challenge by letting us all know that we would be flown deep into the Frank, dropped off, and had to hike our way out.
Although I had several years of experiencing and completing Death Hikes before this one, there were countless variables and "what if" questions running through my mind before this hike.
The Frank is big, relentless, unforgiving country. And being dropped-off by plane in such a vast roadless area is daunting. Add in the winter conditions at elevation, the challenge of snowshoeing (something I have never done) and the single-digit temps at night — it was easy to get in my own head before this hike.
But thoughts are just thoughts. Worries and anxiety may come to you without your consent, but you do get to choose what you do with them. When fear and anxiety sneak up on you, how will you respond?
Well before the hike began I realized that I was capable of thriving during this adventure. Despite the challenge, I knew I was up to the task. I made the choice to focus on my capabilities and experience, instead of focusing on my fears and anxiety. Your reality is largely determined by what you think, so don't be careless with your thoughts.
PUSH YOUR LIMITS, BUT DON'T EXCEED THEM
2022 Death Hike, Chugach Mountains, Alaska
As you can tell by now, my experience on Death Hikes has been largely about pushing past my preconceived limits and getting out of my comfort zone. However, the reality is that we do have actual limitations.
It is only by pushing past your previous experiences that you can discover the difference between the edge of your comfort zone (false limits) and the end of your current capabilities (true limits). But your limitations are not fixed. Just because you cannot do something now, doesn't mean that you cannot do that thing ever. You can expand your capabilities, which pushes your limits further.
The 2022 Death Hike exposed our limits. At just 7.5 miles into a planned 50+ mile route, we recognized that a dangerous cornice at the top of a knife-ridge was not something we had the capabilities (knowledge, experience, and gear) to traverse. We had just climbed over 4,000' in elevation in only 2.5 miles and now we had to turn around. Just hours into a multi-day trip, we had to acknowledge our current limits, adapt our entire route and plan for the next 2 days, and continue to create an adventure that would challenge our limits without exceeding them.
There is a difference between what feels impossible and what is impossible.  Previous Death Hikes have presented me with many things that felt impossible, but were false limitations that I have been able to push past. This year's Death Hike showed me what is not possible…at least with my current capabilities. I now know where I can grow in knowledge, skills, and abilities to become better prepared for the future and expand my limits.
---
Mark Huelsing is the host of the Hunt Backcountry Podcast and works at Exo Mtn Gear — though he's never been able to figure out his job title. Connect with Mark by sending him an email (mark at exomtngear.com) or DM @MarkTheFark on Instagram.