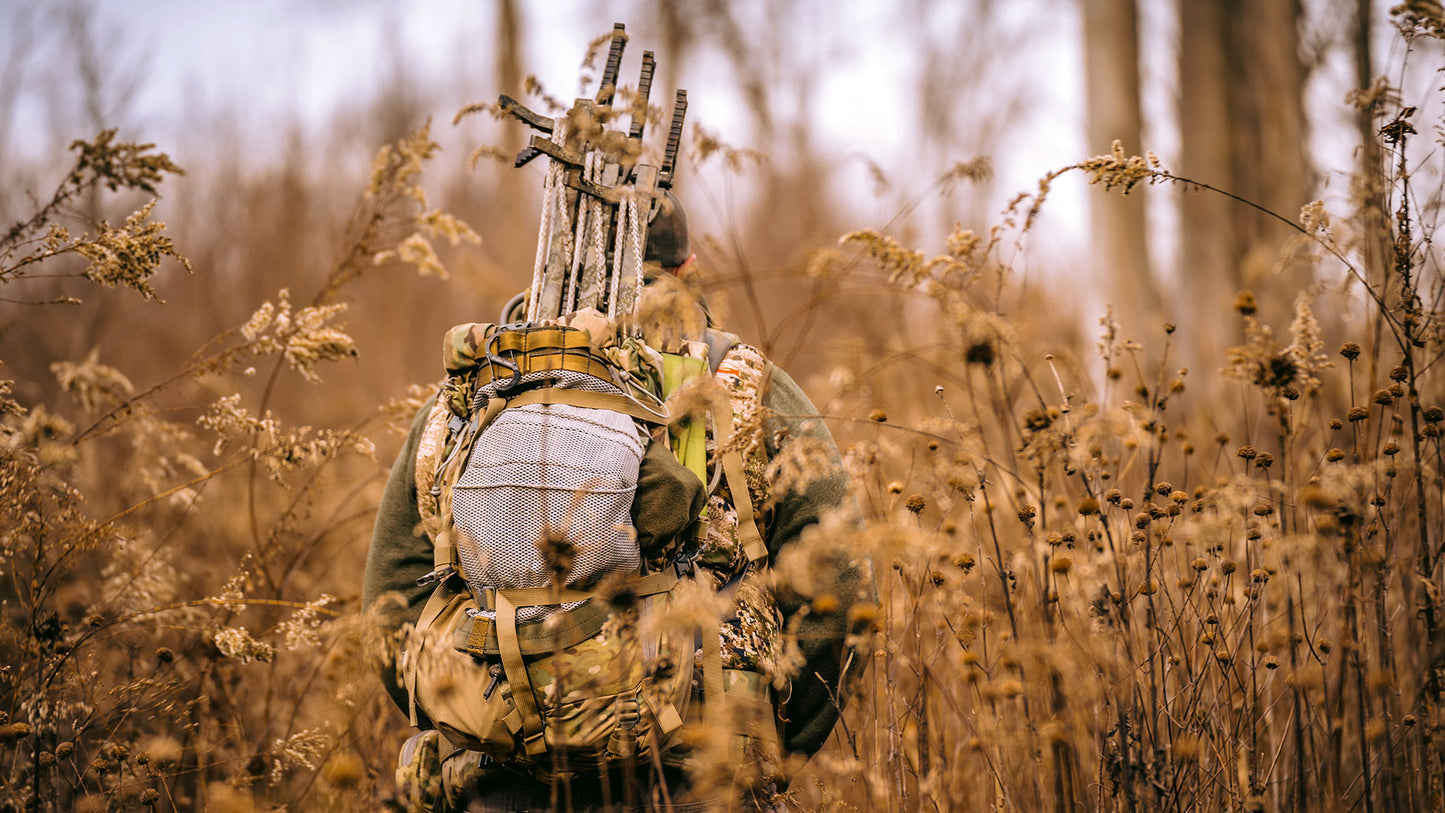 Exo Mtn Gear Pack Systems are built for the backcountry, but also work great for mobile whitetail hunters that are carrying treestand or saddle-hunting setups into hard-to-reach "honey holes" on public land or to new places on "the back 40". Here is one customer's story of how his pack for western elk hunting also became a critical component of his whitetail hunting setup.
Growing up in the mountains of Pennsylvania, my family hunted a large property with a mixture of old timber, long benches, and steep hollows that lead to dark pine ridges. I thought those "mountains" were gigantic back then. I remember my little legs burning, my feet sliding around in my dad's hand-me-down Sorel boots, and my dad constantly 80 yards ahead of me telling me to hurry up. That is where I fell in love with the mountains.
Fast forward 25 years and now I cannot wait for the two weeks during fall that I get to chase elk in the mountains of Montana. In 2017, I killed my first archery elk. With that came my first pack out. As that pack sat on my shoulders for the first time, I had a real "Oh Shit!" moment. I didn't know what real pain was until three miles later at the trailhead. Not only were my flatlander legs smoked, but my hands were purple, my fingers asleep and my shoulders felt like they were being slowly cut from my body. The pack I was using then was supposed to be good, but it clearly couldn't carry weight well.
After that painful experience, I upgraded to the K3 4800 Pack System and it worked incredibly well in the mountains of Montana on my subsequent elk hunts. Little did I know that my Exo pack would change the way I hunted at home as well. Having the K3 System opened a whole new world to me as a mobile whitetail hunter. I could now carry stands or a saddle platform and sticks securely on the Exo's integrated load-shelf while still having a pack for extra clothing, food, and water for those all-day sits in November.
STAYING STEALTHY FROM TRUCK TO TREE
My whitetail gear is constantly evolving in regards to what climbing sticks I use or what saddle platform I take with me, but the way it is packed never changes. The way I use my Exo pack allows me to be quiet while getting in or out of the woods, and to also access my gear in the dark with minimal use of a headlamp. The repeatability and efficiency of how my pack is setup is a critical aspect to staying stealthy in the whitetail woods.
Let's take a closer look at my process from the truck to the tree...
I will start by saying I keep all my clothing, food, kill kit, platform, and sticks in my pack for almost the entire season. This helps ensure that I don't lose or forget any gear and that I am always ready to just grab and go. Now that I am loaded up, I hike! Once I find the deer sign or tree that I like, the pack comes off my back and I begin to unbuckle my side compression straps so I can flip the pack bag away from the frame.
Exo has cleverly designed the way the bag detaches from the frame, making his process super easy. With just a few quick-release buckles, I can quickly and quietly access my climbing sticks and saddle platform that is stored between the Exo bag and frame. With the sticks and platform removed from the load-shelf of the frame, I quickly re-attach the bag to the frame.
With my sticks and platform removed, I get saddled-up and attach my platform and climbing sticks to my saddle. I then buckle the two top compression straps that re-attach the Exo pack to the K3 Frame and then put the pack system back on. I keep my pull-up rope in the K3 Hipbelt Pouch on my pack and make sure to connect that rope to my bow before I start my climb.
HANGING AND HUNTING
After climbing the tree using my lineman's rope and getting to hunting height, I put my tether around the tree. I have two gear ties on my tether. One gear tie is for hanging my bow on my left side of the tree and the other is for hanging my pack on my right.
With my pack secured to the tree alongside me, I use the zippered access of the K3 Lid to organize and retrieve smaller items such as my phone, headlamp, snacks, gloves, and beanie hat. Another great feature of the K3 4800 and K3 1800 bags is the u-shaped front zipper. This lets me gain access to my main compartment without having to unzip my bag the whole way, keeping gear secure in the bag and not falling out of the tree and to the ground. (Ask me how I know.) On the front of the K3 4800, Exo has a zippered, stretch pocket. I keep my folding saw and a lightweight rain jacket in here. Both have proven to be useful more times than not.
CLIMBING DOWN AND COMING OUT
Packing up is just as simple. I undo the top two compression straps and flip the bag from the frame. Everything goes back in the order it came out. I use all four compression straps when hauling my sticks and platform between the bag and frame, keeping everything solid and secure when walking in thick or hilly terrain. With all of the adjustability and secure compression straps on this pack, nothing moves or makes a sound while walking. If you want to strap your sticks to the front of the bag you can, it is all personal preference.
WHICH PACK FOR WHITETAIL HUNTING?
Before I wrap this up, let me mention bag sizes briefly. If you think the K3 4800 bag is too big for this type of mobile whitetail hunting, you would be mistaken. All Exo bags compress well and can easily be made compact enough to be a lightweight and streamlined whitetail pack. Here is a video showing how to compress a 4800 Bag for day-hunting.
That said, if you have a K3 System with one of the larger bags and want a designated whitetail bag, then the K3 1800 Bag can also work with your K3 frame and is the best run-and-gun bag when you don't need the extra space of larger packs. Unlike the larger bags, you don't have to worry about compressing the 1800 bag to make it smaller. Pair that smaller K3 1800 Bag with a K3 Lid and you have a perfect day pack for archery or rifle.
No matter which bag you're using, I have found the K3 Pack Systems to be a critical piece of gear that allows me to quickly and quietly hunt new areas as a mobile whitetail hunter. And while we have only touched on mobile gear and setups in this article, consider the value of the K3 System when you do fill your tag and need to pack that deer out of the whitetail woods. The K3 packs are purpose-built for that type of load-hauling after a successful hunt.
---
The author, Jake Bair (@bairshaft_archery), has been an avid archery hunter for over 20 years. He and his wife have two children who enjoy searching for sheds while scouting both public and private land. Jake is a family man who loves teaching his children about the outdoors and the reasons why they don't see him much from October to the end of December. Whenever Jake is not busy fulfilling the tasks of his day job, he is busy researching and testing new gear to be the most effective and lethal hunter he can be. Photos by @jordan__herr
---
More Whitetail Hunting Feedback...
"After moving to Montana from Wisconsin, I needed a pack for the mountains. The Exo Mountain Gear 4800 is obviously the perfect fit for that. What I didn't realize was how much use I would get out of it in the whitetail woods. As someone who primarily does hang and hunts, the ability pack in gear to stay warm but not sweat on the way in, as well as climbing sticks, rattling antlers, and the whole nine has been an absolute game changer for me. From elk and mule deer hunts in the mountains to hang and hunts across the midwest, Exo is my go to pack." —Jared L.