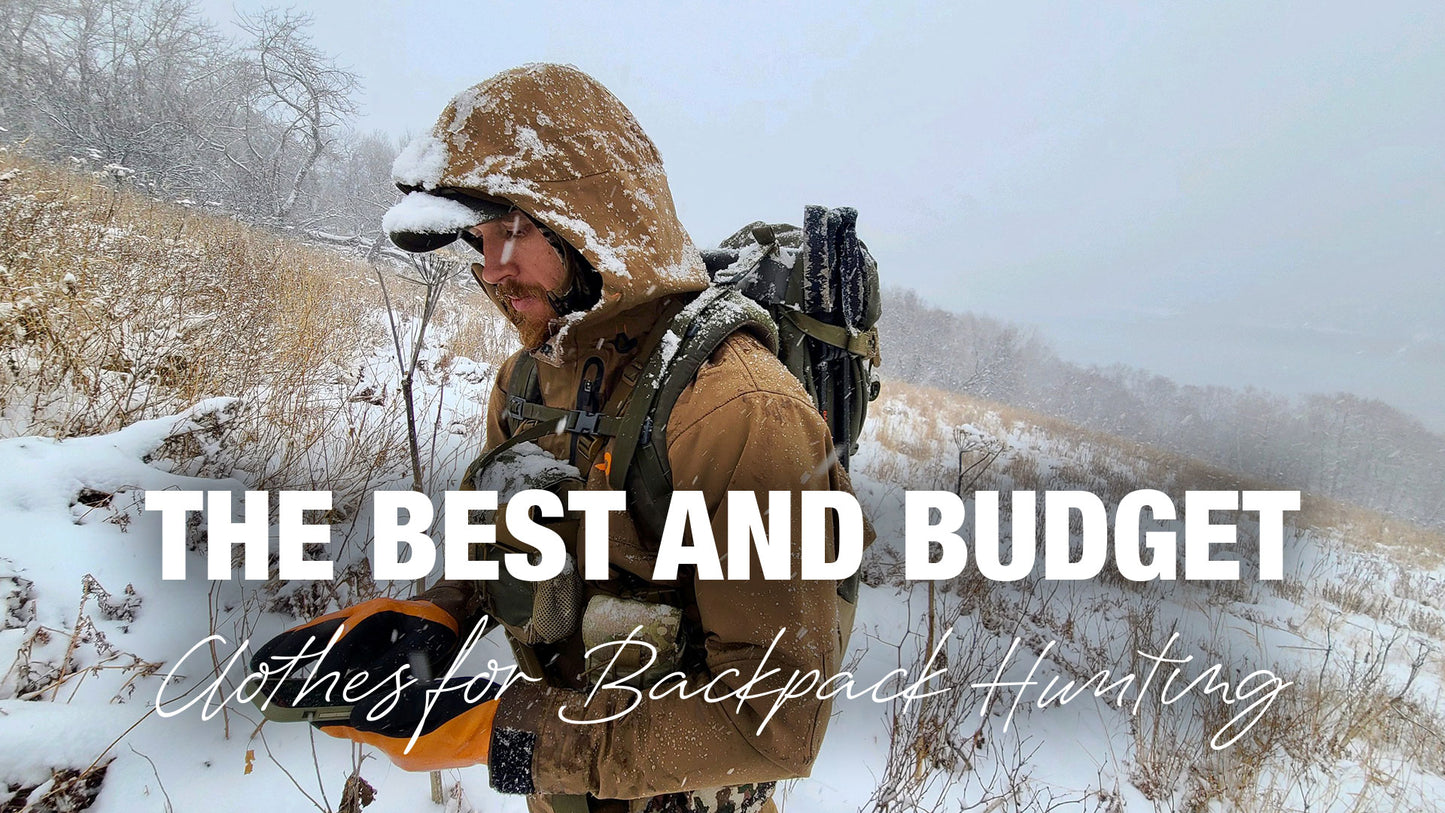 A hunter's clothing system is their first line of defense against the elements of weather and nature. For backcountry hunters on multi-day trips, the weather conditions experienced on a single hunt can vary beyond extremes. Blistering sun exposure with temps in the 70s can turn to blowing snow in a matter of hours. Been there, done that.
If you're going to hunt effectively, you need to hunt with relative comfort throughout varied conditions. Even if you're tough enough to stick it out in rough weather with gear that compromises your comfort, your mental and physical energy will turn toward survival, which means that you won't be able to give your full attention and effort to the hunt itself. More serious than discomfort, a remote hunt with improper apparel can become downright dangerous.
To battle against discomfort and danger, you need to carefully consider the clothing you wear on your next adventure.
THE PROBLEM WITH TECHNICAL HUNTING APPAREL
There is no shortage of high-end, high-performance technical hunting apparel these days. You can purchase a piece of clothing for every conceivable hunt you can imagine. It doesn't matter what season or species you're hunting, there's a piece of clothing for it.
That's great. Until it isn't.
With so many options available, how do you decide what clothing you truly need? And with the cost of technical hunting clothing, how do you balance a realistic budget with the possibility of spending more on clothes than I spent on my first car?
Answering these questions begins with understanding the fundamental elements of a clothing "system" — specifically knowing what layers of clothing are needed, and what the purpose of each layer is.
SIMPLIFY YOUR SYSTEM
"I like to think of 6 key components needed for a versatile, highly-effective clothing system: a base layer, a mid-layer, pants, insulation, protection, and accessories."
Each piece of clothing you choose for a hunt should fall into one of these six categories. Each category has a purpose, and each piece of clothing should fulfill that purpose.
When it comes to backcountry hunting — and especially backpack hunting — it is best to select apparel that does a specific job and does that job incredibly well. That's what the "best" pieces of clothing do.
Instead of trying to find a single clothing item that offers versatility or supposedly does more than one "job" out of the six categories, you are trying to build a system of individual clothing pieces that, when combined, create a very versatile system for varied conditions.
As you consider these key categories, think about which items are most important for the locations and conditions that you primarily hunt in, and then direct most of your budget towards buying the best item you can in those specific areas. Over time, you can upgrade your system piece-by-piece. Once you have a well-built, proper-fitting, high-performing piece of clothing for each of these categories, you are well-equipped to hunt in many different locations and conditions.
Let's explore the six categories…
1) NEXT-TO-SKIN BASE LAYERS
Regardless of the temperature, next-to-skin base layers play a critical role in your comfort, as well as the effectiveness of the rest of your clothing system. The base layers should absorb moisture from the skin and help transport that moisture off of your body. That is what you've likely heard referred to as "wicking". This process of removing moisture is important to regulate your body temperature in both hot and cold conditions.
A heavy pack, a long steep climb, high heat, and full sun — Exo Mtn Gear's Mark Huelsing relies on his baselayer to manage moisture during a hard effort.
Merino wool and synthetic base layers are both great choices. Merino has grown in popularity among hunters because of merino's natural anti-microbial properties, which helps reduce odor over the course of an extended hunt. That said, today's synthetics have come a long way with modern antimicrobial technology, such as Polygiene, which helps keep them fresher for longer.
Both merino and synthetics have benefits and drawbacks. I use both, selecting between the two for the specific hunt and expected conditions.
My advice — try them both for yourself. You can read about other people's experiences and preferences for days. Instead, go experiment for yourself and draw your own conclusions. My two favorite base layer tops are the First Lite Wick Hoody (merino) and the Sitka Core Lightweight Hoody (synthetic).
Obviously tops aren't the only next-to-skin layer to consider. Your underwear or base layer leggings are critical. No one wants to deal with discomfort in their nether regions. Everything I mentioned above regarding the purpose of base layers and the choices in material applies below the waist as well.
My go-to bottoms are the XO Skin 3.1 Boxers. I also really like the Under Armor Boxer Jock. Budget options from big box department stores can work well, too.
2) MID-LAYERS & ACTIVE INSULATION
The next layer to consider in your system is a mid-layer. This layer works between the base layer (which we just discussed) and your external layers (which we will discuss soon) to regulate warmth.
The mid-layer should allow the base layer to work well, meaning it should allow that transfer of moisture or "wicking" to continue, not trapping it in the base layer or on your skin. Although the mid-layer should provide some insulation to retain body heat, it should also provide breathability.
Common mid-layers are heavier weights of merino wool or synthetic fleece layers. Whether choosing merino or a fleece-like synthetic, mid-layers are offered in numerous "weights" which offer varying levels of warmth. The selection of the mid-layer that works best for you is going to depend on the conditions you expect to hunt in, as well as your body's natural proclivity to run warmer or colder. Some guys only need a light level of insulation to create and sustain warmth, while other guys who tend to run colder may prefer a heavier mid-layer.
Staying warm on a cold morning with the Klamath grid fleece, Mark pursues an elk during October's rifle elk season.
Personally, I prefer a grid fleece over a heavier-weight merino mid-layer because the fleece is lighter for an equivalent level of warmth, and a grid fleece also dries much quicker. I love the Sitka Heavyweight Hoody and the (regrettably discontinued) First Lite Klamath. A great budget option is the Condor Grid Fleece.
BUT MID-LAYERS ARE CHANGING…
Simple mid-layers, such as fleece, have been around for a looooong time, but with more advanced materials and construction techniques, mid-layers are evolving rapidly. Companies are pushing hard to add to the breathability of mid-layers during higher output activities in colder weather ("active insulation") and also providing more protection to external elements of moisture with external face fabrics and DWR on mid-layers.
A great example of this is Sitka's new Ambient collection. Compared to a more traditional merino or fleece mid-layer, these high-end technical mid-layers offer more warmth, greater breathability and moisture management, more protection to external elements, and have all of those benefits while weighing less than a typical mid-layer. I am excited to spend a ton of time testing the Sitka Ambient Hoody this year.
Finally, most of what we've discussed about mid-layers is relevant below the belt. There are numerous mid-layer bottoms in both merino and synthetics. I only utilize these layers on the coldest of hunts, as I personally tend to run plenty warm in the lower body and generally am pretty active on my hunts. Speaking of pants…
3) A PAIR (OR TWO) OF PANTS
A good pair of pants can be extremely versatile throughout most of your hunting season. Most backcountry hunters can get away with two pairs of pants — a pair for early archery season into the mid-Fall, and then a pair for when the temps start consistently staying low. But if you're not someone that hunts in all seasons, maybe one good pair of pants is all you need.
Figure out what you want in pants. For me, fit and flex for mobility is key. Breathability and/or ventilation via zippers is important. I also want something pretty simple — not too many pockets or extra zippers. Although I used to make fun of knee pads, I do like having them as a removable option these days.
For years, I have run the Prana Stretch Zion pants on almost all of my hunts. I own at least 5 pairs of them. Unfortunately, they decided to redesign these pants recently (2022) and the changes are not for the better. I have yet to determine what are going to be THE pants moving forward, but let me mention a few options that I really like.
Sitka's Ascent Pants. These are great warm-to-cool weather pants. Their breathability and quick-drying aspects makes them great for earlier season hunts. I love the fit and stretch they offer, and their durability has been impressive for such a light pant. They will be my choice for an early-September elk hunt this year.
Mark utilizes the hip vents on the Corrugate Foundry Pants to stay cool while packing-out a heavy load after a successful spring bear hunt.
First Lite's Corrugate Foundry pants are great for cool-to-cold temps. Their fit and function is outstanding. I love the optional knee pads and side zippers for ventilation. They are reinforced in the right areas, offering durability and protection from moisture where it is needed.
For a killer budget option, check out the offerings from Wrangler Outdoors. They may even have them at your local Wal-Mart for less than $25. I have also heard good things about some of the hiking pants offered at Costco.
ONE THING I HAVEN'T DISCUSSED YET IS CAMOUFLAGE…
And now is the perfect time to bring it up. Because, if you aren't set on camouflage, then your options for clothing will expand greatly. Even if you want to run camo tops, accessories, and face paint, I am still confident that pants in a solid neutral color can, and should, be considered. If that's the case, now you can consider the aforementioned budget suggestions, as well as pants such as Eddie Bauer Guide Pants, Outdoor Research Ferossi Pants, or countless other options that aren't hunt-specific.
Personally, I use a lot of solid color tops as well. Yes, because it gives me more options, but also because it allows me to use the clothing items outside of the hunt. If I invest in a killer piece of technical apparel, it is nice to be able to use it for hiking, backpacking, climbing, or even around town when the performance is needed.
4) STATIC INSULATION — YOUR "PUFFY"
The layers we've discussed up until this point are going to be the items you wear most-often, especially as you are actively hiking and hunting. But what about when you aren't moving? If you start the day by glassing under clear skies with cold temps, you'll need a way to keep warm. Or if you're hiking in cooler temps, but then stop to take a break, you'll quickly become chilled.  In these scenarios — and for many more — you will need an insulation layer to keep you warm.
What is commonly referred to as a "puffy jacket" is a critical piece of gear. Choosing a puffy often begins by deciding whether you want the insulation type to be a natural down (goose or duck feathers) or a synthetic form of insulation.
I could write thousands of words explaining the pros and cons of down vs synthetic, but I will sum it up quickly this way:
Natural down jackets compress better when packing them into your hunting pack and are generally able to offer a better warmth-to-weight ratio. Meaning, you can have a down jacket that weighs less than a comparably warm synthetic insulation jacket. As you likely know, the downside to down (non pun intended) is that it is more susceptible to moisture and natural down does not retain its insulating properties when wet. Synthetic insulation, then, becomes a better choice when moisture is a concern. Synthetic insulation can also be more budget-friendly.
Glassing after a big climb on a cool morning, Mark keeps warm in the Sitka Kelvin Lite Down jacket.
Once you've decided on down or synthetic, you can then begin determining just how much warmth you need. This will be primarily determined by how much insulation or down "fill" is used in a particular item. For example, First Lite's ultralight Brooks Down Sweater uses the same 800-fill power down insulation as their much warmer Chamberlin Down Jacket. The difference is now what type of insulation is used, but how much insulation each piece has.
I could go on to talk about hydrophobic (water-resistant) down, how insulation is distributed throughout a jacket (often called "body mapping"), an explanation of hybrid synthetic and down insulation options, shell fabric options and how those affect performance, breathability, and durability. And on, and on. But we don't have the time or space for that in this article.
Personally, I will be running an ultralight down jacket on my early season archery elk hunt, but then transition to Sitka's Kelvin Lite Down (which is actually a unique piece that uses both natural down and synthetic insulation) for my Alaska Goat Hunt, as well as rifle hunts later in the season when more moisture is expected.
Before we leave the topic of static insulation, I can't neglect to mention that this isn't all about tops. Insulated pants are a live-saver on cold hunts. These pants often feature full-zip legs, which makes it easy to get them on (and take them off) over boots and your other clothing. My First Lite Uncompaghre pants has allowed me to keep glassing longer and spot more animals in some very crumby conditions.
5) A SHELL(TER) FROM THE ELEMENTS
A shell is your protection from the elements. What we are primarily discussing here is probably what most guys think of as rain gear. But there are other types of shells, as well as other ways that a shell can offer protection from elements that don't include precipitation. For example, there are shells that are designed and constructed specifically to block the wind. That said, we will mostly focus on protection from rain and other precipitation (sleet, snow, etc).
What gets tricky about shells is that you can spend $50 or $500 on a single rain jacket. Some shells are quiet, others are anything but. Some shells use fabrics that stretch to move with you, others won't. Some shells offer true waterproof protection, while other shells offer great water-resistance that can eventually begin to allow moisture transfer. Some shells are very light but lack durability, other shells are extremely burly but carry a weight penalty. Some shells offer breathability, while other shells will make you feel like you've been wrapped in rubber.
All of that said, when it comes to selecting rain gear, I encourage people to begin with how they intend to use it, what level of protection they need, and what their budget is.
A chilly, windy, damp day — the Sitka Dewpoint Jacket and a cup of coffee keep Mark warm and dry.
For example, decide if you're looking for protection from light and occasional precipitation (or even heavy but short-lived storms), while accepting that you won't be out hunting in truly serious or extended precipitation. Or are you going on a hunt where you don't have the luxury of choosing what conditions may come, or for how long you're forced to be truly exposed to those conditions? In either case, that narrows down the type of shell you need.
Do you need a shell that you can be active in (hunt, hike, and move) or do you need a shell to keep you dry as you "hunker down" and wait for the precipitation to blow over? If you will be hiking and moving in your shell, what type of terrain will you be in and how much durability do you need to stand up to brush, thorns, and other things that could shred light fabrics?
Is there potential that you are bowhunting in your rain gear, requiring that you need something as quiet as possible and potentially that offers concealment via camouflage? Or are you rifle hunting in more open country where shot distances aren't expected to be close and noise or concealment isn't a big priority?
I know I am asking a TON of questions and not providing a lot of answers in this section, but that is intentional. There is a ton of rain gear out there on the market and it is only by beginning to answer these questions that you can make informed decisions. In the gear list sections below I have shared some of the specific shells that I have tested and continue to use.
And, finally, I highly suggest listening to this in-depth podcast discussion with technical apparel designer, Marcel Geser: How Rain Gear Works. And Why, Sometimes, It Doesn't.
6) ACCESSORIES
The final category that completes your apparel system is accessories. For me, that begins with keep my head and hands warm. A simple, warm beanie hat is a critical piece of gear, since much of the body's warmth can be lost through the head. I don't use anything special here and generally just prefer a cuff-style beanie that can be "adjusted" higher or lower on the ears, such as First Lite's Tag Cuff Beanie.
When it comes to gloves, I like to have numerous options available and select a pair (sometimes two) for each specific hunt. If I need a mix of protection and warmth for the hands, a pair of Mechnix gloves are great. If I want some warmth but don't need a ton of protection, nor expect a ton of moisture, a simple pair of ragwool gloves are hard to beat. For truly cold weather and stationary glassing, I love the Brooks Down Glassing Mitt. For protection from cold and precipitation, the Stormtracker glove from Outdoor Research is a great choice.
Another important accessory to consider is a belt or suspenders. In a perfect world, you have pants that fit so well, you don't need anything to help keep them in place. But reality is rarely that perfect. When it comes to a belt or suspenders, you want to keep things as low-profile as possible. Any time you put bulk between your hunting pack's hipbelt and your body's hip, you're introducing a serious risk of discomfort, irritation, or even pressure that can cause nerve pain. My go-to belt is the lightweight, thin, and flexible yet supportive, Arcade Belt.
A long, cold, wet day on Kodiak Island, Alaska. Good gaiters and gloves were key to staying warm and dry.
Gaiters are the next accessory that is often a part of my system. I don't always wear gaiters, and to be honest, I don't want to wear them when I don't have to. But there are times when gaiters are invaluable. Specifically, I use gaiters for protection from snow that's piling-up on the ground, persistent moisture that's on tall grass, or to keep me dry if I expect to be crossing a lot of semi-shallow streams, moving through muck, or traversing standing water. The Outdoor Research Crocodile gaiters have long been a standard by which other gaiters are measured. I have also used the PEAX Storm Castle gaiters a ton and have experienced great performance and durability with them.
Another item that isn't clothing but that I would consider an "accessory" is a traction device, such as Kahtoola Microspikes. I have used these quite a bit, and not just for snow and ice. They have proven to be extremely useful on steep grass slopes, to cross wet logs, and more. They aren't always in my pack, but like gaiters, they are invaluable in certain situations.
IN CONCLUSION
It is easy to get overwhelmed with the amount of clothing on the market today. Especially if you are considering the ever-growing brands specific to the hunting market, as well as all of the technical apparel in the general outdoor world.
I hope that this article has helped provide a framework for you to build an apparel system that is simple, yet versatile. In addition to understanding the high-level clothing categories to consider, you should now be able to evaluate each specific category to understand what you are looking for out of a clothing piece to fill that specific role.
Below you will find my personal recommendations for pieces in each category, including ultra-budget options and ultra-premium options. There isn't a single item in these lists that I don't have at least some first-hand experience with…
ULTRA-BUDGET SYSTEM
ULTRA-PREMIUM SYSTEM
---
Mark Huelsing is the host of the Hunt Backcountry Podcast and works at Exo Mtn Gear — though he's never been able to figure out his job title. Connect with Mark by sending him an email (mark at exomtngear.com) or DM @MarkTheFark on Instagram.