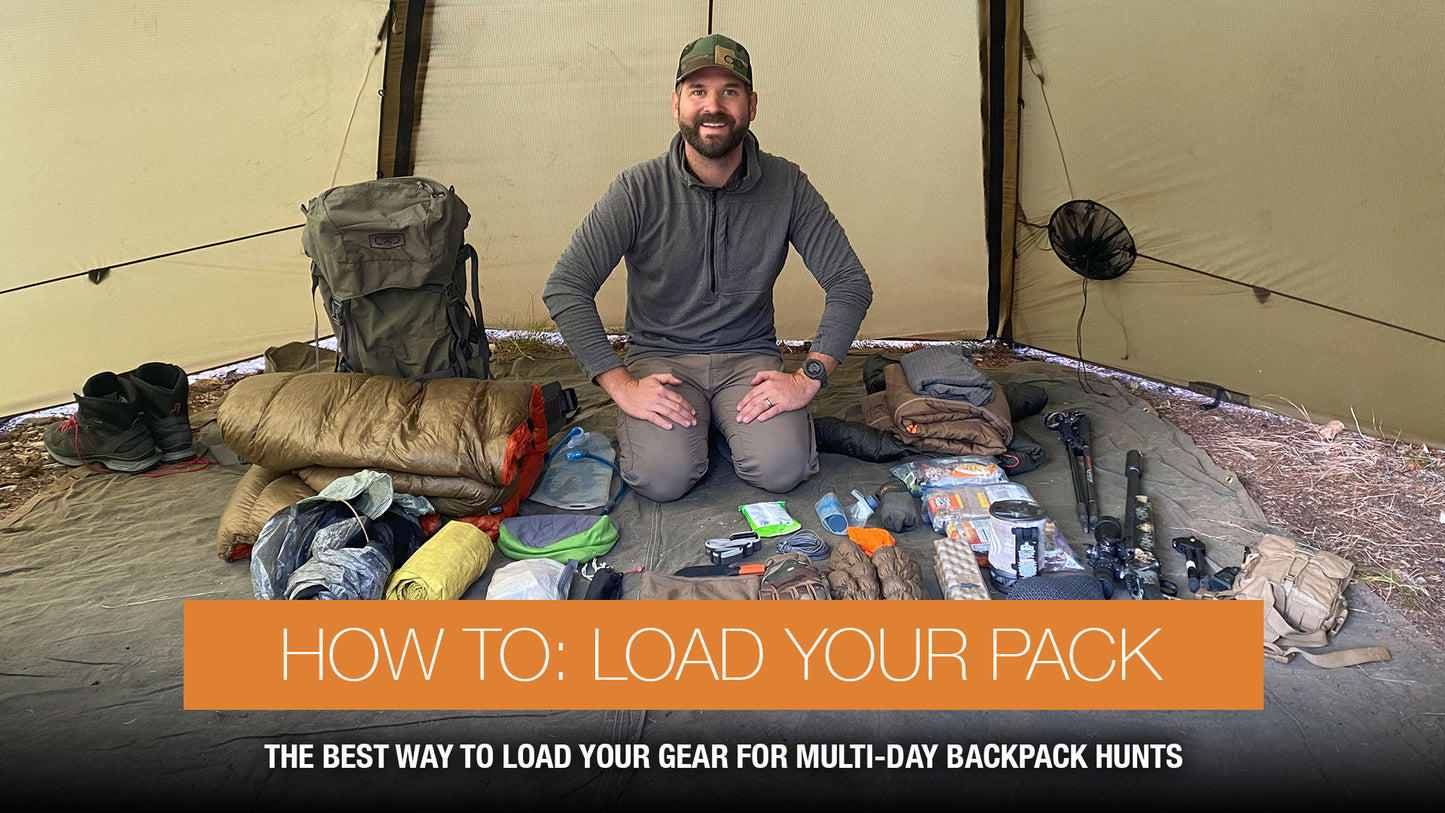 Many hunters like to talk about the gear they bring on their hunts. The true gear nerds, like us, may even obsess over carefully-calculated spreadsheets that account for every item that enters their pack. (You can get a copy of our gear list spreadsheet.)
Once you know WHAT to pack, don't overlook HOW to pack and WHERE to store each item that you bring. Consistency in the "how" and "where" will make a big difference in the comfort of your load, as well as in the efficiency of how you hunt.
In this video, owner of Exo Mtn Gear, Steve Speck, shows how he packs the K3 3200 for a multiday backpack hunt.
---
Weight Distribution
You must consider where the heaviest items you are carrying will be loaded in the pack. In general, you want to keep the heaviest items as close to your back as possible, and in the middle to upper-third of the pack, vertically.
Lighter and bulkier items, such as a sleeping bag, should be stored at the bottom of the bag, making a nice "base" to keep heavier items (such as food) propped up in the bag.
This rule of weight distribution is one reason, among many others, that we designed our hydration bladder sleeve at the back of the bag — keeping the weight close to your back. And also why we have an included water bladder hanger, keeping the water in the middle-to-upper section of the pack.
If you position heavier items further away from your back (your center of gravity) it will feel as if the load is "pulling away" from you. And if you have heavy items at the very bottom of the pack, those items can add increased pressure and fatigue to your lower back.
By strategically placing items in the bag to manage weight distribution, your pack will truly feel better than a pack that isn't loaded properly.
Accessibility
In addition to weight distribution, consider how accessible an item needs to be. Ask yourself, "How often do I need to access this item? When do I need to access this item?"
In the example of your sleep system (sleeping bag, sleeping pad, etc), you should only need to access those items once a day, and specifically at the end of the day. For those reasons, it makes a ton of sense to store them at the bottom of the pack. In comparison, your puffy jacket — much like your sleeping bag — is a light and compressible item, but your jacket may need to be accessed and stored multiple times throughout the day. It wouldn't make sense to bury your jacket in the pack and have to dig it out of the bottom of the bag when you sit for that morning glassing session after you've hiked up a ridge.
Your kill kit (knife, rope, license, etc) is another gear item that you don't need frequent access to and can be stored out of the way. In contrast, you likely use your stove at least a couple of times each day, so it makes sense to store your stove in an easily accessible location.
Protection
Consider protection "from" as well as protection "for". Meaning, you need to store some items in a way that protects them FROM other items. For example, in the video, Steve talks about storing his tent stakes separate from his sleeping pad, sleeping bag, and pillow, so that a tent stake can't accidentally puncture one of those sensitive items.
When it comes to protection "for", you are ensuring that small items are secured in a way where they won't get lost. If you just tossed your headlamp in the main area of the pack, it could be difficult to locate, or may get lost when you pull out another item (such as a jacket) and don't realize that the headlamp fell out of the pack at that time. Our packs feature several pockets that offer protection and dedicated storage for small items, and you can extend that functionality with the secure K3 Stash Pockets.
Consistency
As you spend more time with your pack and gear, you will develop a pack-loading and gear storage strategy that meets your needs and preferences. With time, this consistency will allow you to hunt more efficiently.
You will spend less time loading your pack before the hunt begins. You will spend less time wondering where something is when you need it during the hunt. And you will spend less time getting your gear in order and establishing camp at the end of the day. All of this time and energy saved will allow you to focus on enjoying the hunt itself.
---