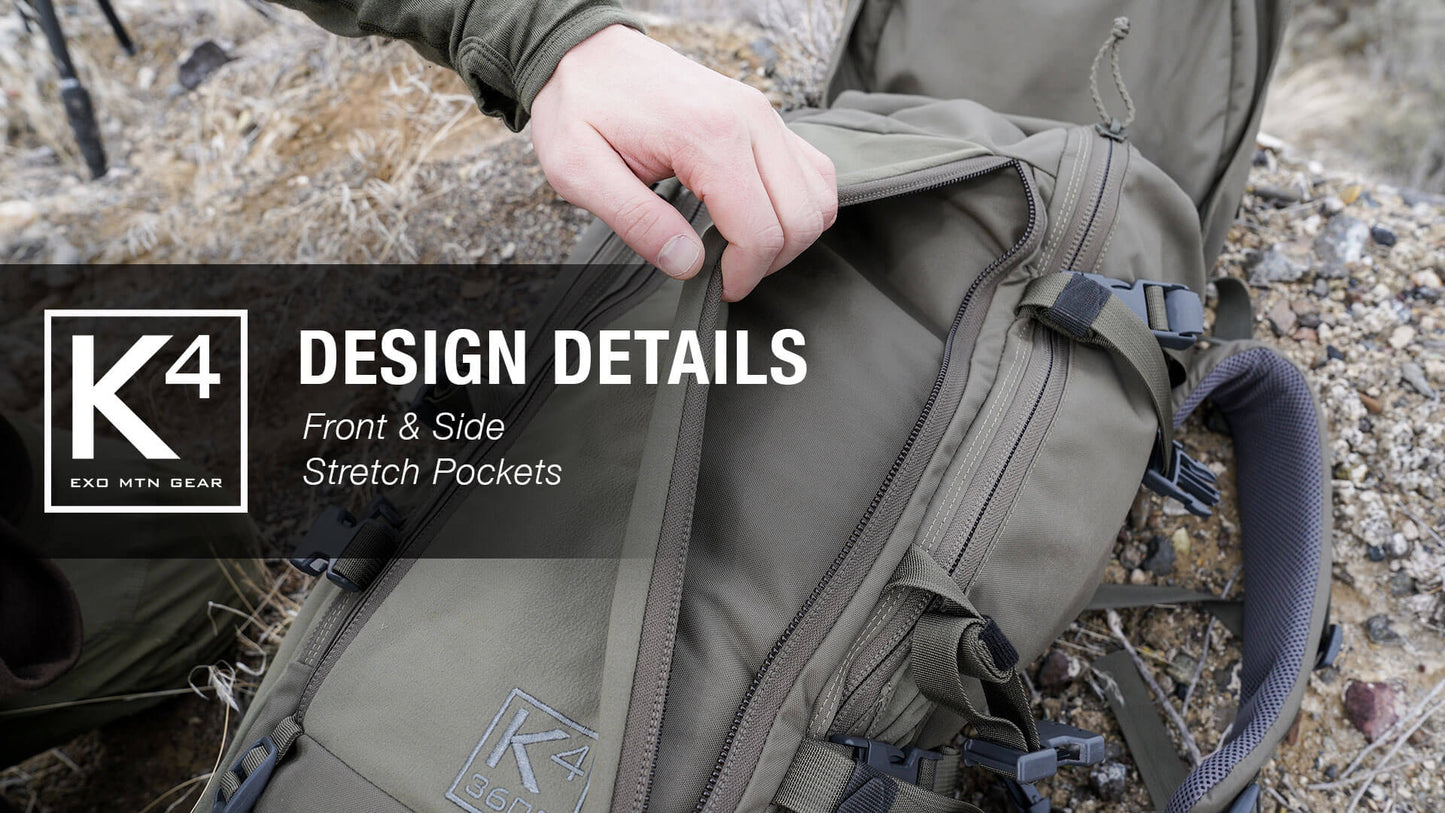 As we have mentioned in our previous Design Details articles, one of our core design philosophies is to make our packs simple, efficient, and easy to use.
One of the K4 bag features that we have continued with, and improved upon, from our previous generation pack designs is pockets built with a specialized stretch fabric.
The stretch fabric we use is a highly-specialized nylon with a unique application of spandex fibers. Not only does this material offer the versatility of 4-way stretch, it provides the durability needed for hard-use applications, excellent shape retention, and remains lightweight.
All of our K4 bags feature a font stretch pocket with a vertical side zipper for access and security. There isn't a specific or intended use-case for this pocket in terms of the type of items you are "meant" to put there, and we see a lot of variability in what users of our packs prefer to store in this front pocket.
The purpose of this pocket is to provide a secure, yet convenient place to store commonly used items so that you can reduce the amount of times you need to access the main storage area of the pack.
In our personal use of our packs, as well as what we have observed from customers, the front stretch pocket is commonly used for items such as a foldable glassing pad, TP or wet wipes, a clothing layer that is on-and-off throughout the hunt (rain jacket, light puffy jacket, etc), gloves and/or beanie, small snacks, or a water filter.
The side stretch pockets are also something that have existed on previous-generation Exo bags, but for K4 we have improved them. The new design for K4 features two separate compartments and access points. For now, let's talk about the top-entry portion of the side stretch pocket.
Compared to previous Exo bags, the K4's side stretch pocket features more independent volume, so that when the main bag is full the side stretch pocket remains fully usable. This usable space can be used in a variety of ways — for water bottles, a quick-way to store your tripod, an option to drop your rifle buttstock into, and much more.
The top of the pocket uses a specialized binding, which allows the opening of the pocket to expand, but also provides some compression to keep the top of the pocket taught and add some security for the items in the pocket.
Additionally, there is a compression strap that interacts with the side stretch pocket in two different ways...
QUICK TIP — You can run the compression strap over the top of the side stretch pocket, or you can run it under the side stretch pocket.
As seen above, you can use the lower frame-to-bag compression strap to run over the side pocket when you want to provide extra security to items stored within the pocket. Or you can run the compression strap under the pocket, ensuring that the contents within the pocket are readily accessible.
New for K4 is the 2nd compartment and access point on the lower stretch pocket. The entry on this compartment is forward facing to provide easy access while wearing the pack. Before we had this new compartment, some users of our packs were able to reach into the aforementioned top-entry portion of the side stretch pocket on our pre-K4 packs, but many users could not reach into that top-entry portion.
This new compartment with forward-facing entry is easy for nearly everyone to access. Since it is easy to access while wearing the pack, you can think of this compartment as a built-in hipbelt pouch. And it is a great place to store items that you used to keep in your pants' pockets.
A very common scenario for us is to begin hiking in the cold pre-dawn hours of a hunt. When doing so, we are often wearing our headlamp, a beanie hat, and gloves. But as the sun rises and temperatures warm, we strip the headlamp, hat, and gloves but don't necessarily want to stop hiking and remove our packs to store those items away. This new lower stretch pocket is the perfect place for those items. We will frequently leave them there all day, which also means that they are accessible as light fades and temperatures as night approaches.
This lower pocket also works great for phones, snacks, smaller water bottles (common 16-24oz disposable bottles), or your water filtration system.
That is an overview of the stretch pockets on our K4 Packs. Every square inch of our K4 Packs has been designed on purpose, with a purpose, based on our personal experience as hunters, and with the input of 150 testers were part of the development of our K4 Pack Systems.
You can see all of the Design Details articles here. And if you have any questions on the features, function, or fit of our packs, don't hesitate to reach out.