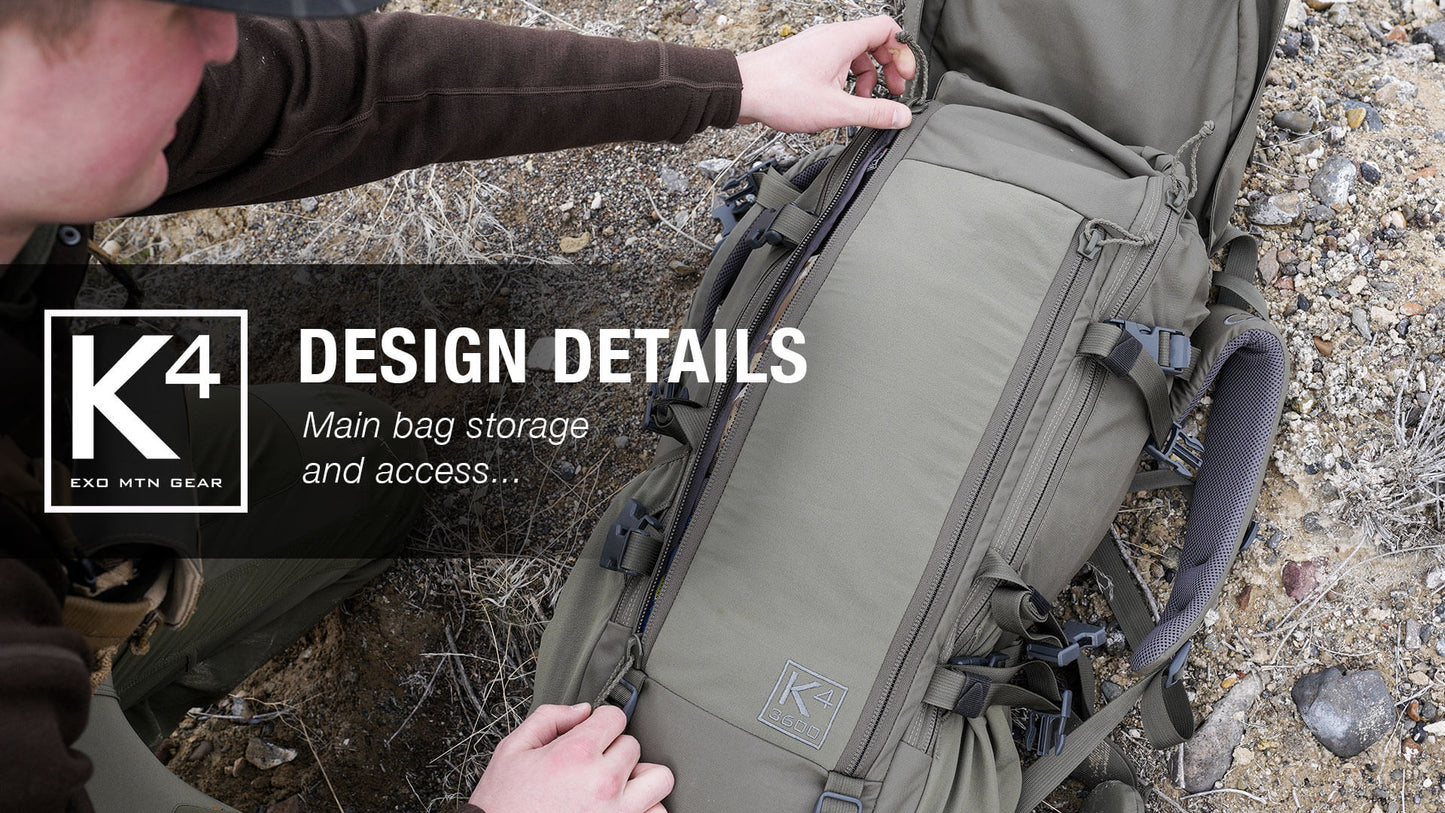 In the previous Design Details article we looked at the full-Length, zippered side pockets on our K4 Pack Systems. And in that article we mentioned that one of our core design philosophies is to offer efficient access and essential organization for items that you need to access throughout the hunt.
With that philosophy in mind, let's talk about the design of the main storage area on our K4 Packs.
OVERVIEW
Above all, we design our packs from the perspective of backpack hunting.
Our packs function extremely well in other scenarios, such as day hunts when you aren't carrying backpacking gear and need to compress your pack to a smaller size. But as we begin to explain the design and functionality of the pack's main bag storage, it is helpful to keep a backpacking perspective in mind.
The main storage area of the bag is often used for your shelter and sleep system, clothing layers, food, stove, fuel, and more. Some of these items may need to be accessed quickly and frequently, while other items (such as your tent) do not actually require convenient or continual access. Some of these items are bulky and heavy (food), while other items are very compressible and lightweight (sleeping bag/quilt).
The main storage area of K4 Bags is a blank slate. We don't create compartments and pockets that force you to use the pack's storage in a certain way. The addition of internal compartments and pockets would limit versatility, create complexity, and add failure points and unnecessary weight.
An open bag design allows you to decide where and how to store your gear. Wasted space is eliminated. And the pack can now compress and expand with greater efficiency, as the amount of gear you are carrying changes.
If you want to create more modularity or "compartments" within the open bag design, you can use individual stuff sacks or small dry bags to, for example, store your clothes separately from your sleep system.
But what about small items?
When it comes to secure storage for small items, it is important to remember that our packs do offer essential organization for these items in areas outside of the main bag. The K4 Lid (included with all K4 Pack Systems) is a dual-compartment design with zippered security. The lower side stretch pockets of our bags also feature a dual-compartment design. We have the zippered K4 Hipbelt Pouches to offer secure storage and efficient access to smaller items while you're wearing the pack.
And then you have our K4 Stash Pockets. These zippered pouches are a great way to offer security and storage for small items within the main bag. Each K4 bag model features 2 connection points, allowing you to run 2 stash pockets in the main bag area of the pack. You can also connect a stash pocket within each of the pack's 2 full-length side pockets. And there are 2 more connection points for stash pockets — one being in the pack's rear hydration compartment, and one being in the pack's lid. That is a total of 6 places to connect K4 Stash Pockets.
There are many reasons we design the K4 Bags with a roll-top. Let's dive into a few of the main benefits of a roll-top design...
Expansion & Contraction
A roll-top design allows you to easily expand or contract the overall volume and height of the pack. Not only is the roll-top helpful when fully compressing one of our larger packs when you're day hunting, the roll-top is also helpful over the course of an extended adventure hunt. As you eat more food on each day of an extended hunt, you need less space in your pack. A K4 7200 may have started full at the beginning of a 12-day sheep hunt, but by day 9 you will have a lot of extra space in the bag. With the roll-top, you can quickly and efficiently tailor the bag's size and capacity to the exact load that you are carrying.
Sealed & Smooth System
We used an expanding/contracting collar in some of our earliest bag designs many years ago. A drawstring to contract and close the collar on those designs. But unlike a drawstring opening, a roll-top creates a true sealed system. With the fabric rolled over itself and then buckled, the closure is both more secure and more weather-resistant than a drawstring closure. You can take that protection to the next-level by adding a K4 Dry Bag, which integrates directly with the pack's roll-top and creates a 100% sealed and fully waterproof system.
If you want to use your pack without a lid, the roll-top can be secured down to the lid straps on the face of the bag, creating a clean closure that won't easily snag or get hung-up on branches as you are hunting.
Access & Compression
Our roll-top design opens wide and provides great access to the main storage area of the pack. A common use case here is when you are starting with an empty pack and loading all of your gear — especially if you are carrying camp and extra food.
As we break camp and load our packs, we will "top load" our bags through the roll-top. We start by adding lighter items to the bottom of the bag, which will support heavier and more dense items that we want in the mid-to-upper portion of the pack for ideal load distribution.
As you top-load the bag, you are also compressing the items in the bottom of the pack, making efficient use of the pack's storage area. For example, if you put your sleeping bag in the pack as one of the first items when top-loading your pack through the roll-top, the bag will automatically compress and fill any awkward voids as you add other items above the sleeping bag and push those items down.
While a roll-top design has many benefits, it isn't the best way to access or store gear in all scenarios. That's why we also have front zipper access to the main storage area of our K4 bags...
Front zippered access into the main bag is important — both when the bag is completely full, as well as when it is nearly empty and compressed. It would be a hassle to retrieve items out of the main bag if the only option was to access the bag through the roll-top.
As mentioned above, we often "top load" through the roll-top when loading our pack with all items (such as after breaking camp), but we will use zip access through the day to access more frequently used items in the main bag.
QUICK TIP — Keep frequently accessed items strategically placed near the zipper of the main bag. By doing so, you can quickly get items in or out of the pack without needing to "find" them in the bag.
Our packs use two different designs or styles of zip access into the main bag. The K4 3600 and K4 7200 bags feature a straight side zipper that runs the full-length (top to bottom) of the bag. The dual zipper slides allow you to open the bag completely or partially. The straight zipper offers great access, a simple design, and helps keep weight to a minimum.
The K4 5000 bag features a "horsehoe" shaped zippered access panel. The dual zipper slides on the K4 5000 allow you to open the zipper completely, and then "lay" the panel back to create excellent access and visibility to the main bag's contents. The backside of the horseshoe zipper panel on the K4 5000 also features a sewn-in zippered pocket, which essentially functions as a built-in K4 Stash Pocket.
Both designs offer excellent access into the main bag's contents — whether you need to open the bag up wide for larger items, or just want to open a small section of the zippered access to quickly reach a smaller item.
If you want to hear more about our thoughts on the Straight vs Horseshoe zipper access designs, and why we offer both, listen to Steve and Mark discuss the design options on the Hunt Backcountry Podcast, Episode MM 172 (beginning at 4:08).
That's an overview of the design philosophy of the main bag storage and access on our K4 Packs. Every square inch of our K4 Packs has been designed on purpose, with a purpose, based on our personal experience as hunters, and with the input of 150 testers were part of the development of our K4 Pack Systems.
If you have any questions on the features, function, or fit of our packs, don't hesitate to reach out.