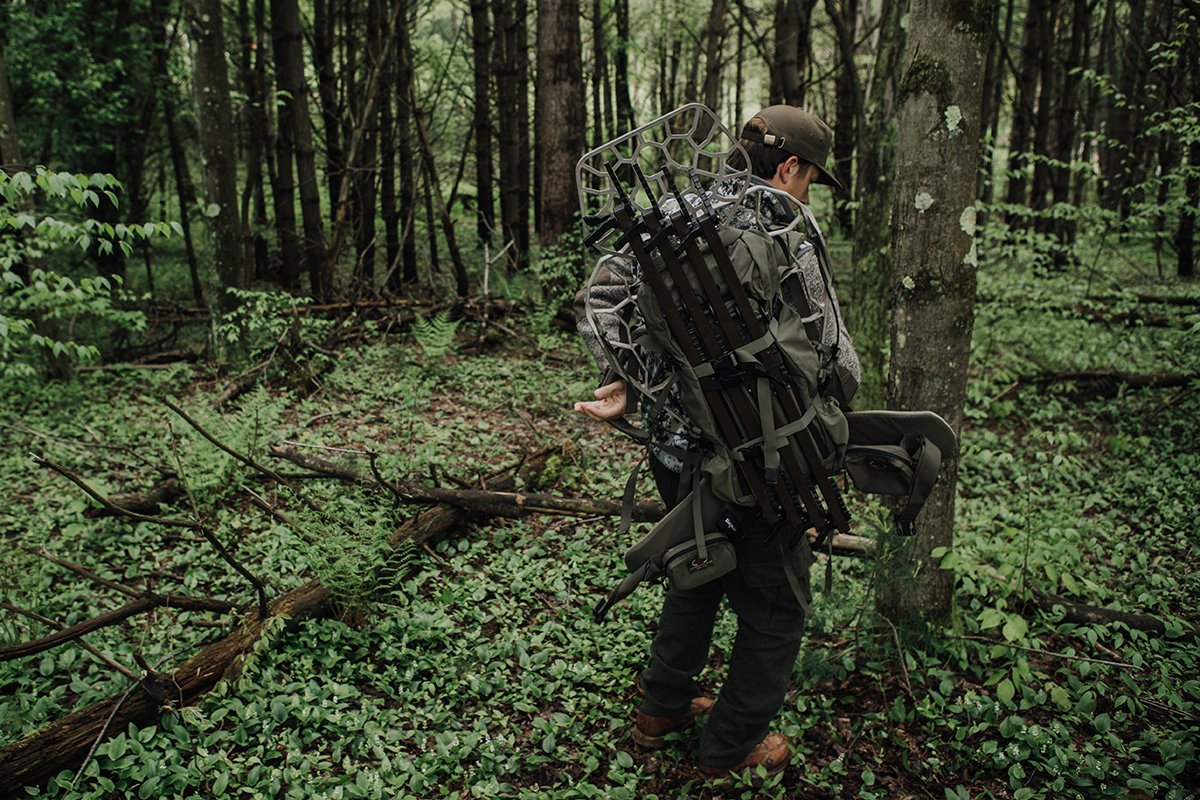 Learn how whitetail hunter and videographer, Wade James, uses his Exo Mountain Gear pack as a solution for hauling treestands and camera equipment for whitetail hunting…
Frame packs aren't just for the western hunter anymore.  Backpacks marketed to the whitetail hunter are convenient for organization and taking everything we need into the stand, but lack one major feature — effectively carrying a treestand.
I have been running an Exo Mountain Gear pack to haul my stands and camera equipment for three years.  It is the quickest and most effective way I have found to get my treestands and climbing sticks in and out of the timber.
Here is the process I use…
Step 1: Separate the bag from the frame.
Step 2: Utilize the crib load panel.
I have found that the Crib Load Panel is the fastest way to attach multiple stands to the frame without having to loosen the straps that attach the bag to the frame.  If I am going in light and only want to carry stands in, I'll remove the bag and only use the frame and the Crib load panel.
Step 4: Secure the bag.
If using the bag, flip the bag up over the stand(s) and attach the roll top to the buckles, locking the stand(s) in place.
Step 5: Attach frame buckles to the side buckles of bag.
This step is optional.  If I want to "run and gun" and not have to mess with a ton of buckles, I usually never buckle these straps.  If I am hiking in a long way with multiple stands, I will use these straps to keep the load stabilized and noise to a minimum.
Step 6: Attach the sticks using the compression straps on the face of the bag.
I like to wrap the strap around the sticks to keep them from sliding down when hiking in.
I film all my hunts and usually require 2 stands — one for the hunter and one for the camera man — as well as a lot of climbing sticks.  By utilizing my Exo pack, I can easily haul two stands, numerous sticks, camera arms, camera gear, bows, and enough goodies to keep me in the stand all day.  The Exo 3500 has been my go-to bag the last few years and I have recently started utilizing the K2 2000 as well.  The 2000 is the perfect size for all-day sits in the whitetail stand, as well as getting my stands and sticks in and out of the woods efficiently.
---
Wade James is a videographer who is co-owner of Adliv Collective alongside his wife Tabitha. As a father of 4 in western Pennsylvania, Wade spends most days wrangling kids and shoots everything from weddings to full length documentaries in the outdoor hunting/fishing industry.  Wade enjoys chasing whitetails in his home state and spends most of his days either behind a camera, behind a computer editing, or behind a bow. Instagram | Facebook