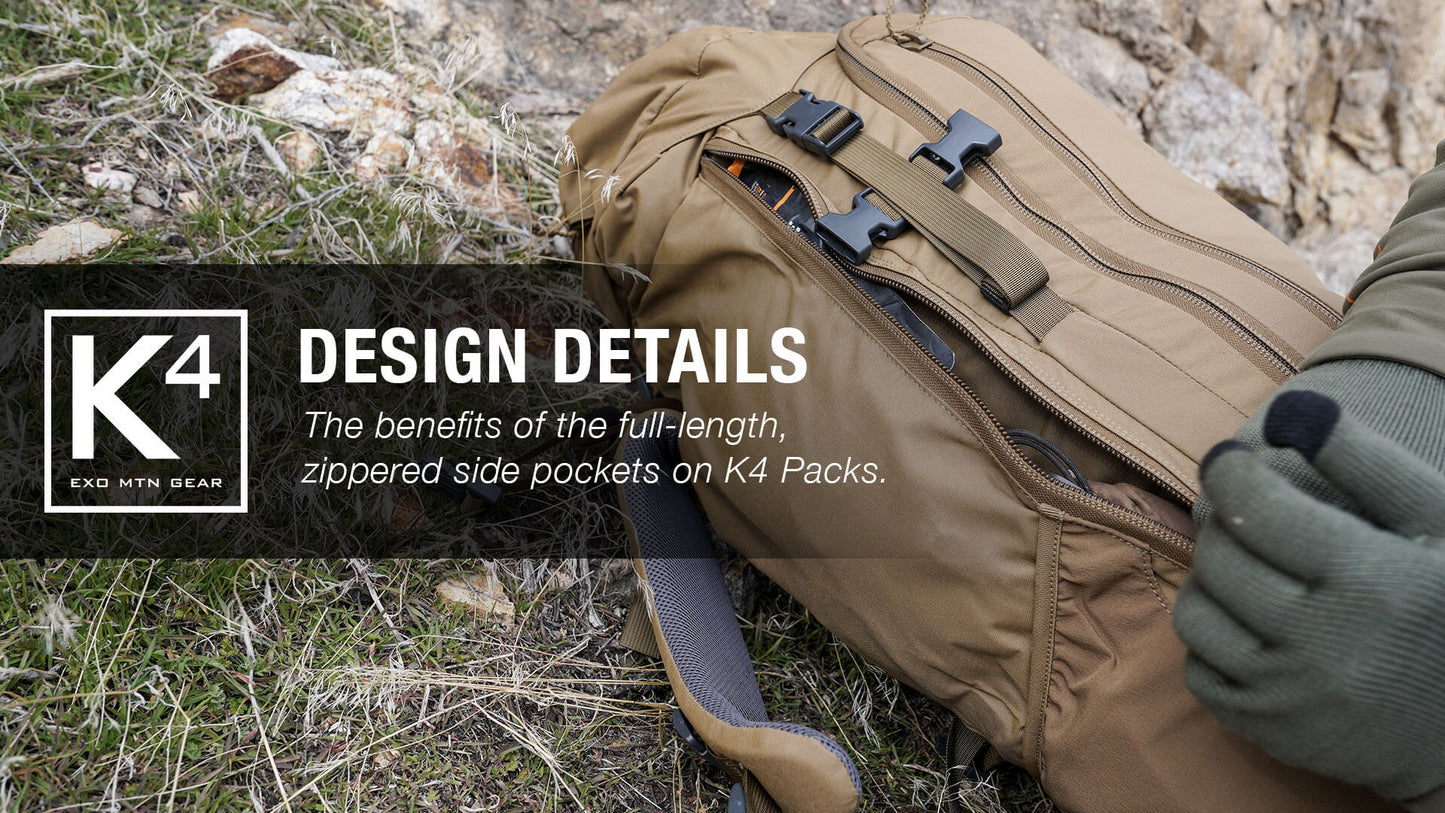 In previous articles, we have gone "behind the design" and showed the process of developing our K4 Pack Systems — from idea, to prototype, to testing, and finally — to production. (Check out Part 1 and Part 2 of the Behind the Design series.)
Now that we have released our K4 Pack Systems, we wanted to share more in-depth details about certain elements of the design. In this article, we are looking specifically at the full-length zippered side pockets, which all K4 bags have on both sides.
OVERVIEW
The full-length zippered side pockets on K4 Packs are 27" tall and 7.5" deep. These pockets are the same size on the K4 3600, K4 5000, and K4 7200, and are built-in to both sides of those bags.
The side pocket features a pleated design. This allows the pocket to expand outward and offer independent storage space, ensuring that the side pocket remains fully functional even when the main compartment of the pack is full. The pleated design also enables the pocket to cleanly compress when it is empty.
One of our core design philosophies is to offer efficient access and essential organization for items that you need to access throughout the hunt. Let's look at how these zippered full-length side pockets meet that need…
Our full-length side pockets are commonly referred to as the "spotting scope pocket". That description is a good starting point, since one of the primary reasons we designed these pockets was to offer quick access and secure storage for spotting scopes.
Full-size spotting scopes — those in the 85-95 objective range — fit great in these pockets. Smaller spotting scopes, such as those in the 55-65 class, fit with plenty of room to spare. Even if you run a protective cover on your spotting scope, you should have great storage and access.
QUICK TIP — Store larger spotting scopes with the objective up. This makes accessing the spotter easier and also allows the lower external lower side pockets to have more volume.
Our previous K2 and K3 packs featured full-length side pockets with top-entry. Those worked well for spotters and tall items, such as tent poles. But top-entry side pockets became problematic when storing small items, since those small items just fell to the bottom of the pocket and required you to reach far down inside the pocket to retrieve them.
With side-entry side pockets, you gain a lot of versatility for storing smaller items and keeping those items very accessible. And since the K4's side pockets still offer 27" in length, they still work great for tall items, such as tent poles, tripods, and more.
If you have items that are too tall to fit within the zippered side-pockets, you can drop those items in the lower side stretch pockets and use one of the pack's side compression straps to hold that item securely against the pack. As an example, watch this external tripod storage and access video.
The K4 side pockets also feature a sewn-in webbing loop at the top. This loop is the perfect place to attach one of our K4 Stash Pockets. The webbing loop can also be used as a general-purpose connection point for whatever you'd like to connect there. For example, Mark from the Exo team clips his long-handled spork here. Other K4 users have used the loop to hang an extra water bladder in the side pocket. The possibilities are numerous.
As you can see in the photo above, even when you have the pack full, a bow strapped to the back, and an item strapped to the side, the full-length external pocket is readily accessible.
That's an overview of the design philosophy of the full-length side pockets on our K4 Packs. Every square inch of our K4 Packs has been designed on purpose, with a purpose, based on our personal experience as hunters, and with the input of 150 testers were part of the development of our K4 Pack Systems.
If you have any questions on the features, function, or fit of our packs, don't hesitate to reach out.