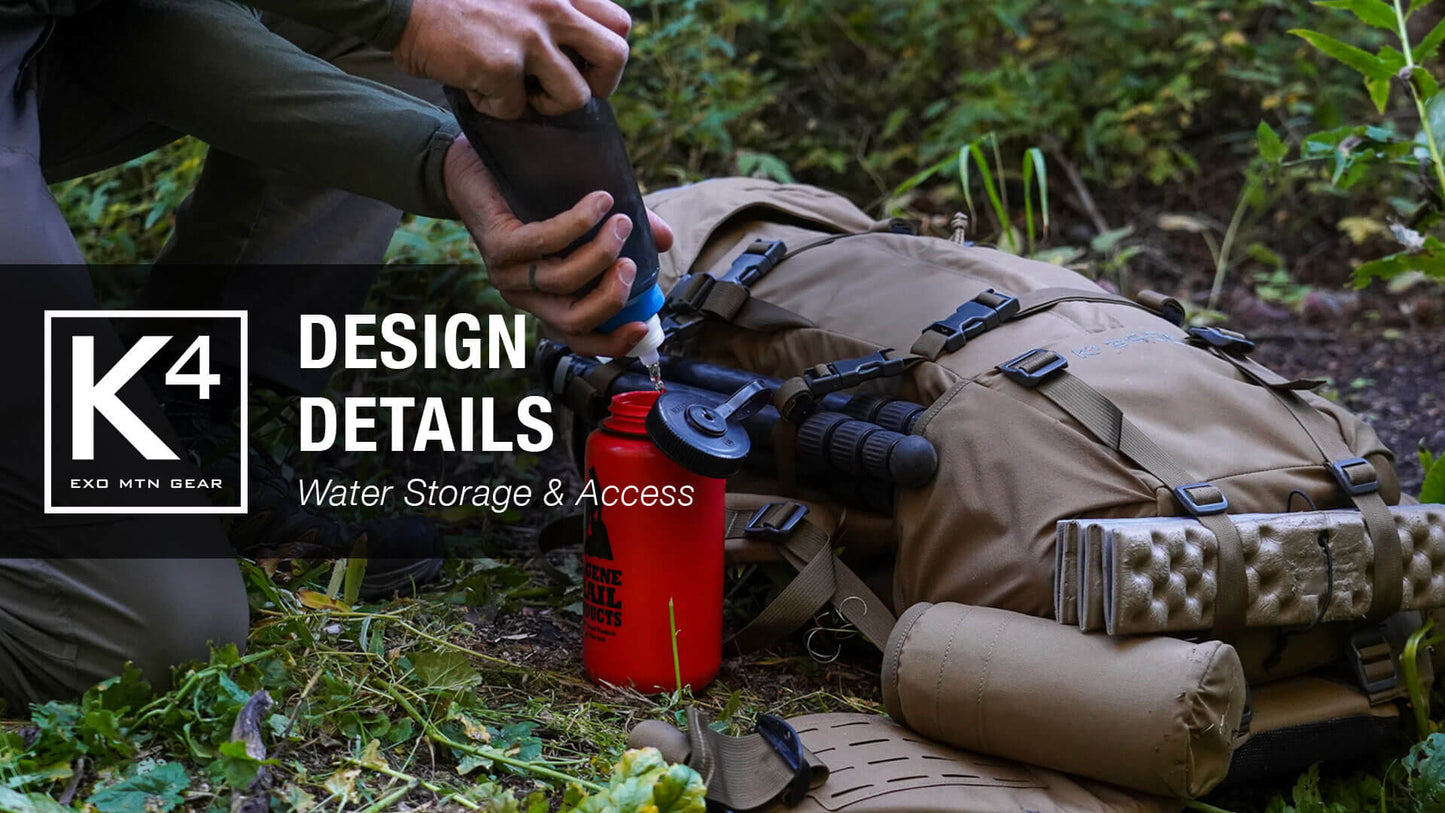 As we have mentioned in our previous Design Details articles, one of our core design philosophies is to offer efficient access and essential organization for items that you need to access throughout the hunt.
No matter what, when, or how you are hunting, or if you are just hiking or backpacking, you will need efficient access to water as you wear your pack.
Whether you prefer to use a bladder or a bottle for your water, we have designed our K4 Packs with efficient ways for you to store, access, consume, and refill your water.
---
All of our K4 Bags are designed with a dedicated bladder compartment. The bladder compartment is located along the back panel of the bag and features direct zip access to your bladder. This compartment is the full-height and full-width of the bag's back panel, offering plenty of space and allowing you to use nearly any water bladder on the market.
The bladder compartment features a waterproof material, along with a drain grommet at the bottom. If the unfortunate event of a bladder leak, the grommet will allow the water to drain out of the bladder compartment and the waterproof material will keep any moisture from entering into the pack's main storage area, making sure that your gear stays dry.
The bladder compartment features a hanging system for your bladder, as well as a pass-through to route the bladder's drinking tube through the bag and over your shoulder.
WATCH — How To Install & Use A Water Bladder
Because of the generous size and waterproof lining, the bladder compartment works great as a storage area for wet items. For example, if your tent's rain fly is wet when you pack up camp, store it in the bladder compartment, keeping the wet item and its moisture separate from the dry gear inside your main bag.
QUICK TIP — Use a quick-disconnect on your bladder's drinking tube (like this), which will allow you to fill the bladder with water without removing the bladder from your pack.
If you prefer bottles over bladders, the K4 Nalgene Holder is for you.
Actually, even if you haven't traditionally liked or used Nalgene-style bottles, our K4 Nalgene Holder may change that. Some of us on the Exo team used to prefer bladders over bottles, until our new K4 Nalgene Holder changed things.
Carrying a Nalgene bottle on a pack hipbelt isn't a new idea. It has been something on our radar for many years, and it has been something that other companies have offered during that time. But we also saw many downsides to the normal ways that Nalgene holders worked on pack hipbelts. The weight of a full Nalgene (2lbs, 12oz) isn't fully supported, causing torque on the pack's hipbelt, which creates discomfort. The Nalgene is positioned too far forward, putting it in the way of a natural hiking motion — especially for hunters that may be carrying a weapon in-hand. There is too much instability, allowing the Nalgene to move and "slosh" around. The shape and lack of structure of the Nalgene holder made it difficult to put the bottle back in the holder.
When designing our K4 Nalgene Holder, we solved all of those problems.
The effectiveness of our K4 Nalgene Holder actually begins with the K4 Hipbelt itself. We designed the Hipbelt with an integrated mounting location for the Nalgene Holder and an internal support structure that supports and transfers the weight of a full Nalgene into the pack's frame, eliminating any torque on the hipbelt and ensuring there is no discomfort.
The K4 Nalgene Holder is mounted further back, yet is mounted at an angle that offers incredible access for getting the Nalgene in and out of the holde while wearing the pack. The Nalgene is out of the way when hiking or hunting, yet is conveniently accessed when you want it.
WATCH — Nalgene Holder Tips & Technique
The K4 Nalgene Holder has a semi-structured shape, which allows it to flex and contour, yet also keeps the mouth of the holder open, making it easy to put the bottle back into the holder. The materials also insulate the Nalgene, keeping water cooler in the heat, and also preventing the water from freezing quickly in the cold.
Before we wrap this up, we wanted to highlight a few other ways that our packs can be used for water management in the backcountry.
The lower side stretch pockets, which we talked about in detail in this Design Details article, work great for thinner water bottles. The forward-facing compartment of the lower stretch pocket works great for the common 16-20oz water bottles from grocery and convenience stores. Another example, which you can see in the photo above, is Mark from Exo using a 21oz Hydro Flask Trail bottle in that pocket. Those lower side stretch pockets are also a perfect spot to store your water filter and keep it readily accessible.
The full-length zippered side pockets, which we talked about in detail in this Design Details article, is a great place for extra water storage. This becomes especially helpful in hunting situations where you need to carry more water than your primary drinking bladder/bottles will contain. A common scenario for us would be to use a water storage vessel, such as the Hydrapak Seeker, in the full-length zippered side pocket.
That's an overview of how we have designed our K4 Pack Systems with water management in mind. As always, if you have any questions on the features, function, or fit of our packs, don't hesitate to reach out. Our small team would love to personally help you out.